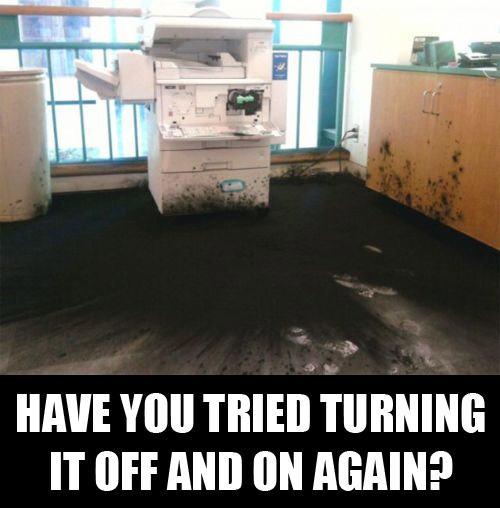 Fire departments know the difference between proactive strategies and reactive ones. Teaching fire safety courses to families; inspecting buildings for code compliance; continuously drilling and training firefighting crews—these are all proactive approaches to fire management.
Putting out fires and saving lives and property—that's about as reactive as it gets. And because it's no fun to run into a burning building, firefighters focus a lot more on the proactive side of things. The best fires, be they literal ones that burn your houses, or figurative ones that cripple your workflow, are the ones that never happen.
Servicing office technology systems and fighting fires may seem unrelated, but I assure you that the philosophy behind their crisis management techniques is the same — an ounce of prevention really is worth a ton of cure.
The old break/fix approach of the past has been replaced by the proactive service model. Read on to learn about the proactive service model for technology, and Meridian's proactive approach.
RELATED: Farewell to Unpredictable Billing for IT Services, You Won't Be Missed
Walk in the Client's Shoes
Webster's defines the term proactive as acting in anticipation of future problems, needs, or changes. I would add one other word — client. Anticipating the client's needs and desires is an integral part of proactive service. Malfunctioning devices resulting in costly downtime, disrupted business, dissatisfied customers, lost time and productivity are the unpleasant consequences of shortsighted reactive-only service approaches.
Another key word is empathy. Can service directors and technicians walk in their clients shoes? Do they know their clients' business model and just how essential technology is to their operations? In fact, does the office technology service provider feel more like a partner than just a vendor? If the answer to these questions is yes, then you have the foundation for a proactive service solution.
RELATED: Is Your Office Technology Provider a Business Partner, or Just a Vendor?
At Meridian, in addition to regular preventative maintenance calls, our proactive approach to service includes a 9-point total call process. This process allows us to thoroughly evaluate all systems to ensure proper operation, prevent future downtime, and maximize the productivity of our clients' office technology.
With this proactive approach, not only is downtime greatly reduced, but service calls change from issues to opportunities—another chance to make lemonade out of lemons. Each interaction with every unique client gives the proactive service technician the opportunity to thoroughly inspect their equipment and perform preventive maintenance.
RELATED: The Real Cost of System Downtime
Training, Training and More Training
When it comes to proactive service, there is one key component: training. Modern office technologies and digital imaging products are evolving at breakneck speed, and keeping current with industry standards requires continuous education and hands on training.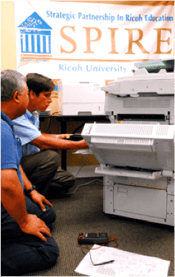 Gone are the days when someone with good mechanical aptitude could simply learn to fix copiers and be finished with their education. Multifunction devices are beautifully complex machines with their own operating systems unique to each manufacturer. To service them requires unique knowledge and skills that cannot be acquired overnight. I have been in the industry over 20 years, and I am still learning.
Good service technicians are in great demand, so recruiting and retaining them must be a priority. One way to do that is by constantly upgrading their skill sets. At Meridian, we have an in-house certified training program that is second to none. Our training director, Steve Edsinger, has been in the industry for 30 years. Over 14 of those have been right here at Meridian.
There's No Substitute for Experience
Retention is critical for the proactive service model. Meridian technicians love working here. They average more than 18 years industry experience, and over 10 years here at Meridian.
Good field service technicians not only get to know their clients' office technology environment, but over time they get to know their clients as well. Whether the client is a small law firm, a non-profit organization, a government agency or an educational institution, each enterprise is unique with its own needs, business model and organizational goals. An experienced, proactive service tech who knows his or her client can better anticipate their needs.
And last but certainly not least, the proactive service model is bigger than the sum of its parts. The experienced, educated, empathetic field service rep is just one part of a service team. That team consists of lot of moving parts. The receptionist at the service desk, the service dispatchers, the remote monitoring team, the field rep — they are all equal and vital parts in the proactive service chain.