Our Managed Print Services are designed to:
make recommendations for improvement upon analysis completion, taking output requirements into consideration
increase productivity and lower overall operating costs
provide one low price for all networked output devices
providing total print management and immediate savings
Top 3 Objectives of an Assessment:
We find opportunities to consolidate.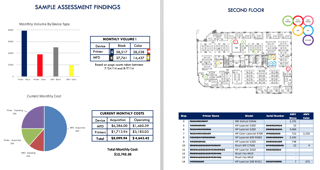 Employees like the convenience of desktop printers, but it's often at the expense of the bottom line. Generally, a lower recommended volume on a device equates to a larger the cost to operate.
By reducing the number of desktop devices, the reduction in device management and consolidated volumes will show significant savings.
We make recommendations to standardize.
As organizations grow, new devices are often introduced to the old device environment. In a mixed environment, the management of each of those devices varies, from the different parts and supplies they require, to the types of solutions you can use for visibility of and reporting on your fleet usage. By standardizing device platforms, management is simplified.
We evaluate space & location.
Since strategically placed, departmental devices are less expensive to operate, right-sizing systems throughout your office will increase efficiency and reduce costs.
---
Understanding the total cost of operation is the key to developing the strongest print management plan. To learn more about how your business could benefit from our Managed Print Services, contact us today or request a meeting here.
Meridian's Managed Print Services are flexible in that we can include either your existing devices or brand new, state of the art output devices, or a mix of new and old. The mix can be black & white or color devices.
Once our analysis is completed, we'll provide you with one cost-per-print amount that includes:
All consumable supplies, including toners, drums and maintenance kits
All repair and preventive maintenance labor
All parts — from fuser units, transfer kits, waste toner bottles, rollers, paper guides — everything
Guaranteed response times and uptime guarantees
You define the number of prints per month, resulting in a monthly flat fee. Under this plan, devices are network enabled and will automatically submit meters to our invoicing system. Invoices are itemized per device, and you receive no additional charges for the number of prints you have defined. There are no hidden costs and tracking print-related expenses becomes much easier.
The difference between the available Managed Print Services options (new equipment vs. existing equipment) is brand new devices generally have increased functionality, better reliability and lower operating costs.