Buy or Lease Multifunction Devices, Production Printers, & Office Equipment from Top Brands, Including Konica Minolta, HP, RISO & KIP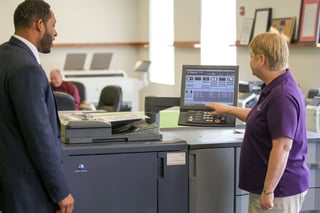 Looking to upgrade your office copy and print efficiency instantly? It all starts with a call right here to Meridian at (703) 461-8195.
We can not only help you nail down the perfect copier and print equipment for your office environment, (fully delivered and installed throughout Maryland, Washington DC, and Virginia) but we also offer award-winning repair and maintenance services for the top major brands of commercial office equipment in the marketplace.
A Solution for Each Office
We are proud to offer a wide range of office equipment from top brands like Konica Minolta, Riso, and more to businesses ranging from small local offices to government and large-scale multi-user environments with hundred of users.
From desktop printers to multifunctional copier machines, to advanced production printing equipment and even wide-format printers, we can supply equipment for all of your output needs.
No matter what your size, our team will plan, deliver, and install exactly the right solution tailored to your needs.
Browse our hardware categories for more information, or contact us to learn more.
Don't forget to check out our other solutions to help you get the most out of your office technology.
Need an existing copier or production printer repaired?
Our manufacturer-certified technicians are standing by!
Call 703-461-8195