Meridian is partnered with award-winning, best-in-class hardware and software manufacturers to bring your business the most appropriate solution.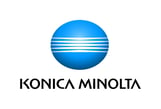 Konica Minolta
Konica Minolta is a leader in advanced imaging and networking technologies for the desktop to the print shop. Unparalleled advances in security, print quality and network integration are brought together with the award winning line of bizhub multifunction products (MFPs) and bizhub PRO production printing systems.
Konica Minolta has also established Business Innovation Centers to drive and transform the core Business Technologies business through expansion into new areas of Software and Services, thus creating new value to benefit and enable customers in improving their business processes. With Meridian operating as a wholly-owned subsidiary of Konica Minolta, Business Innovation Centers underscore our commitment to customer-centric innovation, continued evolution and transformation.

Square 9 Softworks
Square 9 is the developer of highly intuitive, award winning Document Management Software solutions that can be easily adopted to automate any paper intensive process. The company has become the creative force in the next generation of cloud-enabled Content Management Solutions. The company's diverse portfolio of tools for business process automation includes solutions for document capture, content management, variable data printing and web forms management.

Hewlett Packard
The suite of HP printers are omnipresent in offices around the globe. We provide services to help your company create a flexible, scalable, and reliable output management environment for the entire enterprise.

RISO
RISO strives to create fundamentally unique new technologies in paper-based communication through an approach that emphasizes productivity, cost containment, and versatility. Every product we manufacture delivers these benefits in a balance that offers the ideal solution to our customers.
Notable Solutions, Inc.
Notable Solutions' flagship product, AutoStore, captures paper and electronic documents from a copier, scanner, or printer, then routes the information into the appropriate business system based on the document type. AutoStore is the information on-ramp for nearly 500 models of MFPs.
Nuance
Nuance is the global leader of intelligent print and cost management software solutions for the corporate, legal, education, health care and financial services markets – with Equitrac and eCopy. Nuance's solutions are mission critical to all enterprises that are looking to more effectively manage their printing environments, reduce printing costs, increase security and lessen their environmental impact.

EFI
EFI is a leader in digital print. The company leads the print industry's transformation from analog to digital color through value-added combinations of hardware, software and consumables. The company's corporate solutions enable anyone in the office to produce, distribute and manage professional-looking documents.

Objectif Lune
Objectif Lune first started in the variable data printing industry in 1993 by creating custom turnkey solutions which evolved to a suite of products called PlanetPress Suite. With impressive success, the company has quickly become a leader in its field and now provides solutions for all aspects of the variable data printing industry.
PrintReleaf
PrintReleaf empowers industry leading software companies to largely reduce the environmental impact of using forest products by automatically planting trees across a global network of reforestation projects.
FMAudit
FMAudit offers experience & technological innovation to optimize your managed services offerings. FMAudit is also capable of accommodating partner and third-party integrations.
Intermedia
Intermedia integrates 30 essential cloud IT apps with a single point of control. It backs it with levels of reliability, security and support that assure a worry-free experience for customers and partners.
VMware
VMware ia a recognized leader in virtualization and automation of computer, networking and storage resources and provides IT greater efficiency. VMware's cloud infrastructure and business mobility solutions remove the bonds tying IT systems and end-user environments to physical hardware.
Verdiem
Verdiem produces innovating IT energy management and efficiency software, which helps organizations reduce operational costs, while increasing efficiency for end user computing and print devices.
Microsft Security Essentials
Microsoft Security Essentials (MSE) provides real-time protection to PCs and guards them from viruses, spyware, and other malicious software.