The multifunction printer (MFP) has greatly improved document management, workflow and office efficiencies, but desktop printers can still be found at some workstations. In fact, despite the many technological advantages of the MFP, the desktop printer hasn't completely disappeared from the modern office environment.
Document management is complex, and there is no easy, one-size-fits-all solution. Print strategy often involves a hybrid approach that may well include not only desktop printers and strategically placed MFPs, but an in-house print room or copy center, as well as the occasional outsourced print job.
RELATED: The Benefits of In-house Production Printing vs Outsourced Printing
In this blog post, I'll focus on the decision regarding whether to have only desktop printers, just use multi-functioning devices, or employ a mix of both device types. There are pros and cons for each strategy. Read on to learn about the pros and cons as they relate to each of these 5 key factors:
Features
Initial costs vs recurring costs
Available space and device footprint
Digitizing and networking
Security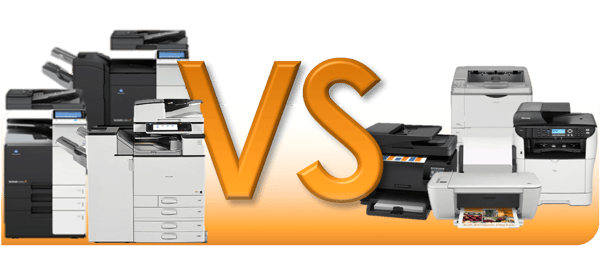 Features
An important question to ask when deciding between a single or multifunctional printer is what your document needs are, both now and in the future. Do you regularly send and receive faxes, make copies, and scan documents? A multifunction device can meet those needs, but if your office already has a separate fax machine, copier or scanner then a desktop printer may be sufficient. Again, needs and print solutions vary from office to office.
A print assessment from a managed print services (MPS) provider early in the decision making process is often offered free of charge and can pay big dividends. Choosing an MPS partner who is brand neutral ensures their goal is to find the best solution for your organization, rather than just sell you a certain product.
RELATED: How Much Copier Speed Do You Need?
Initial Costs vs Recurring Costs
Desktop printers are generally less expensive to purchase, requiring a smaller initial capital outlay. This is a consideration for some offices, especially the small-to-midsized business (SMB). However, unless your organization has a very, very low print volume, MFPs generally have a much lower cost per page than desktop printers in the long run.
Both types of devices require servicing approximately every 7,000 to 15,000 pages, therefore an MFP that takes the place of several different machines (printer, scanner, copier, fax) will require less parts and labor for maintenance. Printer based MFP's generally have less moving parts than copiers. The initial purchase price of each device must be compared to ongoing consumable expenses such as toner and roller replacements and energy usage.
RELATED: 7 Reasons You Need a Copier Maintenance Contract and SLA
Available Space and Device Footprint
Multifunction devices can save space. One centrally located MFP generally takes up less space than the several devices it replaces. Additionally, some MFPs have as small a footprint as a desktop. However, the desktop offers the convenience of not having to leave the workstation. This is a main reason why some organizations continue to still have some desktop units available, usually for their higher level executives or those who print extremely sensitive documents.
RELATED: How to Securely Print Confidential Documents Without Your Own Desktop Printer
Digitalizing and Networking
Modern MFPs are intelligent network devices with operating systems that better allow for digital document management and networking. With MFPs, paper documents can become digitized files, then be routed and delivered across an enterprise intranet, or the Internet as part of a digitized workflow. Of course, the need for this depends on the size and nature of your organization.
Managed print solutions (MPS) vary from enterprise to enterprise, and not every business necessarily needs MPS. However, multifunction printers are much more common in any managed print solution than desktop printers alone. The networking capabilities of MFPs also allows for better tracking and cost control than desktops, along with better integration with solutions for cost recovery, mobile printing, scan-to-cloud and more.
Security
Maintaining security, inside and outside the organization, must be an integral component of any MFP or desktop unit. Some users prefer printing confidential documents at their workstation, which is a key reason for the continued presence of desktops. However, security features such as secure pull printing, which prevents printed documents from sitting in output trays, is available on MFPs. The use of individual access codes is another feature of MFPs designed to both secure the print process and track usage.
A print assessment should always be the first step in any print strategy decision. You wouldn't want to make a business decision without actionable data to back it, would you? An assessment gives you the business intelligence to quantify your average print activity for all of your devices. To get started, call us at (703) 461-8195 to schedule your free assessment, or download our free Do-It-Yourself print assessment template to preform an assessment of your printing environment on your own.