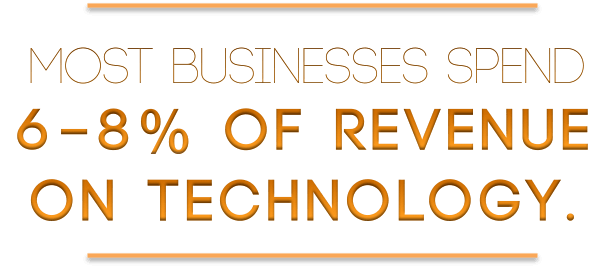 Most businesses spend about 6-8% of revenue on technology-related expenses. I'm quite familiar with this statistic because, as the chief information officer (CIO) here at Meridian, or VP of Technology as I'm officially known, I am constantly involved in both technology and finance.
It's vital I see to it that my company utilizes the best technology that it can:
afford to purchase, use and maintain
leverage to improve its ability to pursue its core mission and meet goals
increase the bottom line and generate revenue
A virtual chief information officer (VCIO), at least ones like we provide here at Meridian for small-to-midsize businesses (SMBs), has the same set of responsibilities. Read on to learn more about the roles and responsibilities of a traditional CIO vs VCIO, as well as how they help businesses create and stick to a predictable technology budget.
RELATED: Farewell to Unpredictable Billing for IT Services, You Won't Be Missed
What's a CIO?
A CIO is more than a technician; as a C-level executive, he or she is also a policy maker. Many of us start out as technicians, in fact the road to CIO often entails a lot of on-the-job training, more so than the typical C-level executive. If there is one quality that, in my opinion, enables a talented geek to make the jump from the workbench to the executive suite it is the ability to see the big picture, to conceptualize. There is a fascinating article on conceptualization and its importance in the workplace here on Yahoo Finance.
My point is not to toot my own horn, but illustrate why the CIO position, or if you are an SMB without one, then the VCIO which performs virtually the same function, is so important to the modern enterprise. Here's a bullet list of just some of the responsibilities of a CIO. You should expect the same from a VCIO.
Facilitates integrated software and hardware architectures.
Keeps resources focused on top strategic projects.
Ensures data, infrastructure and practices are secure.
Leads the technology organization and manages delivery.
Helps senior management choose compatible technology.
Takes steps to remediate inefficient processes.
Keeps technologies current with business needs.
Helps the business measure the impact of decisions.
Partners with Human resources to integrate technology policies.
Partners with Finance to manage expenditures.
Notice that I italicized partnering with Finance to manage expenditures. The list is not in order of importance, nor weighted according to workload. A good CIO/VCIO juggles these and other tasks constantly. I'll get back to the financial benefits of using a VCIO, but first let's define the term.
What's a VCIO?
The word virtual gets bandied about a lot in the digital world. When one hears the term virtual reality it is often referring to a simulation of the real thing. A virtual CIO is still a live human being, in fact, it is usually a team of experts – something often not financially feasible for most SMBs. A VCIO is not, at least not at Meridian, simply a network monitoring service that only connects with the client by phone or email.
The proper VCIO partner should always include live, regularly scheduled consults with qualified IT experts who completely understand your enterprise's core mission, especially the financials.
RELATED: Top 5 Ways VCIO Services Benefit Small and Midsize Businesses
What's the Bottom Line?
Nothing pleases me more than to help a client improve its technical infrastructure and at the same time generate more revenue. I love it when IT goes from being just another necessary expense to becoming a profitable part of an SMB. The partner VCIO, one that is proactive and not just reactively fixing that which is broken, understands how each client's business operates. And each one is different; there is no single cookie cutter solution for every SMB.
RELATED: The Proactive Service Model is for the Real Pros
The financial benefits of partnering with a VCIO vary from business to business, but universally they include:
Predictable IT budgets either short-term or long-term, whether 6 months, or 6 years down-the-road.
Searches for ways to cut operating costs without hindering operations.Determining methods to analyze and improve productivity throughout the client enterprise.
Regularly reporting findings and recommendations, with costs, to be considered for budget inclusion.
Ensuring security, including business continuity, disaster recovery, and compliance.
Finding ways to make IT contribute to the bottom line.
There are many other ways a VCIO from a managed services provider can benefit, both financially and operationally, your small-to-mid-sized business. To find the right fit for your organization, I suggest an assessment from an MSP — click here to request your assessment now.