Data backup is essential for any business, and the small-to-midsized business (SMB) is especially vulnerable to the effects of a data loss, either as the result of a natural disaster or a data breach. After deciding on the type of backup to use (full, differential, and/or incremental), as I discussed in a previous blog, the next step is to choose a storage medium (or mediums).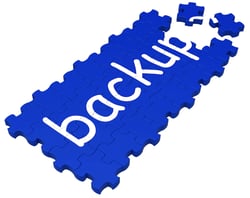 Choosing the right data backup method for your small business is a serious matter. Often the best route is to consult with a managed services provider (MSP), preferably one who is brand agnostic and who aims to understand your business.
There is no one-size-fits-all solution, and each data storage option has its pros and cons. Read on to learn about each of these five data backup methods:
Magnetic tape
Hard disk drive
Optical media
Solid state storage
Cloud-based storage
RELATED: 5 Key Principles for Data Security
Whether you use one method, or a combination of two or more backups, a recommended best practice for data backup is to make two full backup copies and maintain them on separate devices, preferably at different physical locations.
Large enterprises often have the option to deploy several backup systems spread out over several locations. In contrast, SMBs usually have tighter budgets and less space. Some MSPs have facilities for data storage and backup, providing offsite data backup for small businesses.
1. Magnetic Tape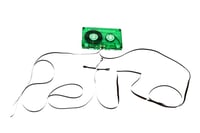 As a storage medium, magnetic tape has long been the most commonly used method for bulk data storage, backup, and archiving. A digital tape system usually is comprised of a tape deck, individual tapes, and a tape auto-loader.
Individual digital tapes can provide capacities of more than a terabyte, or roughly a thousand gigabytes, and are fairly cheap. For that reason, magnetic tape is often used for very large data backup tasks.
Tape is portable and easily transportable offsite to other secure sites, which may be a plus for some organizations. Because of its stability and massive storage capabilities, magnetic tape is often used by large organizations to backup terabytes of data on a daily basis.
Although digital tapes are one of the least expensive storage media per gigabyte, digital tape systems are expensive and may require additional costs to install. Therefore, magnetic tape is often not feasible or practical for small businesses. Data access speeds of older magnetic tape systems are slower than with disk drives, however some new tape drives are faster than disk drives.
2. Hard Disk Drives (HDD)
The price of hard disk continues to drop, making it more competitive with magnetic tape as a data backup choice. HDD storage has several advantages, including:
Low access times
Data availability
High storage capacity
Ease of use
Increasingly low cost
They are also generally easy to integrate with other equipment and networks via local interfaces such as USB and Ethernet connections. One drawback of a disk-based system is lack of portability. They are also easily damaged while being transported for offsite backups. Finally, HDD stability over long periods of times is still relatively unknown.
3. Optical Media
Recordable CDs, DVDs, and Blu-Ray discs generally have low unit costs and may be suitable for some organizations. Capacities and speeds are generally lower than hard disk or magnetic tape. However, for certain types of data backup, optical devices provide useful cataloging and archiving functions.
Storage capacity varies greatly among the available optical media, from 682 megabytes on CDs, to as much as 9.4 gigabytes on DVDs, and up to 50 gigabytes on Blu-Ray discs. This is still far less capacity than hard disks, solid state media, or magnetic tapes, but it may be sufficient for some SMBs. Long term data integrity is an issue because handling can shorten optical discs lifespans.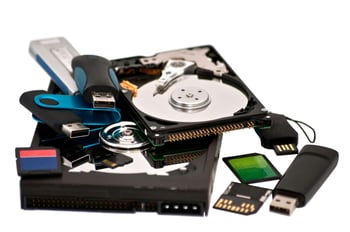 4. Solid State Storage
Solid-state storage — also known as flash drives, USB flash drives, thumb drives, SD and micro SD cards, memory sticks, and solid state drives (SSD) — is at the heart of many portable storage media, including most digital music players and smart phones.
Unlike hard drives, solid state devices contain no moving parts, which allows them to be small, resist shock, and access data quickly. Use plug-and-play USB drives and cards primarily for day-to-day data storage and transfer. Use more complex SSDs, which can be internal or external, for data storage and processing.
5. The Cloud
Cloud storage can be ideal for SMBs, particularly for those who backup incrementally. A big advantage to using a cloud-based backup to a remote location is the protection that it provides in case of a physical disaster such as a fire, flood, earthquake, or tornado.
However, keep in mind that your data is not actually up in the clouds. Rather, it is at another location in a real server that may also be subject to those same natural disasters. Don't be afraid to request an appointment to check out the physical location where your data is backed up to make sure it is secure and has redundancies and infrastructure in place to provide ample data protection. (Check out these 5 facts your should know about data loss prevention (DLP).)
Also, because cloud services depend on broadband connections, your data may not always be accessible if the Internet is interrupted. Finally, with cloud-based backup, you are entrusting your data to a third-party, so it is imperative to encrypt your data beforehand.
These are just some of the backup methods available to SMBs. Each organization is different, and no one solution fits all. That being said, you should always be skeptical of vendors who tout any single solution as the best for your company without first performing an assessment, including an analysis of your technology environment, processes and business objectives. Consult with a brand agnostic MSP like Meridian for such an assessment of your technology environment to help determine the best plan to meet your organization's specific backup needs.