Software as a Service (SaaS) is one of the most popular forms of cloud computing. And not without good reason.
SaaS platforms help businesses boost productivity, lower costs, and improve data security. They're easy to implement and accessible from any location, which is crucial for companies with a dispersed workforce.
Due to these benefits, businesses of all sizes embrace SaaS as a superior alternative to the on-premise software model. The statistics reflect this trend as SaaS adoption exploded in the last decade, with end-user spending forecasted to reach nearly $600 billion by 2023.
To help you stay competitive, let's define Software as a Service (SaaS) before diving into the top four advantages.
What is Software as a Service (SaaS)?
According to Gartner, Software as a Service (SaaS) is "software that is owned, delivered and managed remotely by one or more providers. The provider delivers software based on one set of common code and data definitions that is consumed in a one-to-many model by all contracted customers at any time on a pay-for-use basis or as a subscription-based on use metrics."
Simply put, SaaS is a way of delivering cloud-based applications over the internet instead of physically installing and maintaining the software on-site, either on a server or on your personal workstation.
SaaS can also be referred to as hosted, on-demand, or web-based software. It runs on the SaaS provider's servers, enabling end-user access via an internet connection. The SaaS provider manages all of the hardware and security updates.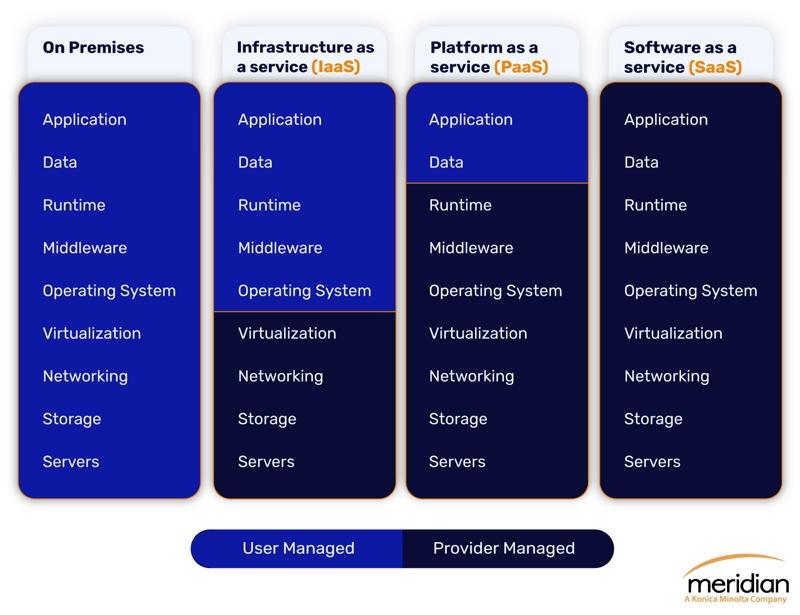 Top 4 Advantages of Software as a Service (SaaS)
In addition to freeing you from CD cases, SaaS has several key benefits. From the ease of use to lower costs, here are four advantages of Software as a Service (SaaS).
1. Easy to Access and Use
All users need to access and utilize the software is an internet connection. That means you can access the software platform anywhere, anytime, from any computer or device. Gone are the days when your mobile workforce could only achieve limited productivity outside the office. The dawn of SaaS means that, with suitable systems in place, employees can be as productive outside the office as they would be on-site.
Because most people are already familiar with and comfortable using the internet, they usually adopt SaaS applications relatively quickly. Plus, the highly competitive community of leading SaaS providers (think Salesforce, Microsoft, Oracle, Adobe, Workday, and countless others) places a significant emphasis on user experience (UX). This means armies of developers, designers, and strategists are working to make SaaS tools more straightforward and intuitive for you to use.
2. Vendor Accountability
Since SaaS applications are subscription-based, dissatisfied customers can easily cancel their subscriptions or choose not to renew. Therefore, vendors are held to a higher level of accountability and must strive to provide excellent service, or they will not succeed.
As mentioned above, the SaaS market is brutally competitive, where the gold standard is to create experiences that are so remarkable that they disrupt the existing ecosystem of products and tools. That said, SaaS vendors are hyper-focused on providing excellent customer experiences, being responsive to customer requests, and constantly improving their products.
With continual improvement comes constant testing, and SaaS products are not immune to the glitches and bugs you might experience with any software program. However, since there is no element of patching or upgrades that end-users are responsible for, the sole accountability around any bugs rests solely on the SaaS vendor. As a result, many SaaS vendors have alpha and beta testing programs where more adventurous users can try out new features and provide feedback to help further improve the products for all users.
3. Simplified Software Maintenance
SaaS applications are hosted by the provider, which is good news for users. Why? First, there is no significant upfront investment and hardware requirements besides a device with internet access. Most SaaS products work seamlessly across desktops and have mobile apps or specialized interfaces built to perform best on mobile devices.
Second, since the provider hosts the applications on their servers, they can make updates for all user accounts at once, virtually eliminating maintenance for the end-user. End users will be free to focus on their core competencies and projects instead of deploying, patching, or maintaining software.
4. Lower Costs
Since SaaS applications are subscription-based, they usually cost less than the licensing fees for traditional software packages. Furthermore, as previously mentioned, SaaS applications typically don't require significant, upfront capital investments that traditional software packages often require.
Streamline Your Processes With an Intelligent SaaS Platform
SaaS is becoming common, and businesses are reaping the benefits. These applications have many advantages over traditional software packages, including ease of use, lower costs, improved customer service, and minimal upkeep.
Businesses interested in SaaS should consult a qualified cloud service provider. Trained technicians will conduct a custom assessment of your network environment and processes to determine the solution most suitable for your business.
Editor's Note: This post was originally published on February 18, 2016, and has been updated for accuracy and current best practices.