Video surveillance is an important part of any business's security. Video surveillance systems protect businesses from vandalism, theft, and intrusion, and they're also tools for optimizing internal processes. Video-based surveillance systems can improve productivity, accountability and, in some cases, even lower insurance premiums.
The good news is that enterprise video surveillance system technologies are becoming increasingly sophisticated with computer-like intelligence, responsiveness, and data collection.
If your organization is researching, here's an overview of eight important questions to ask before investing in a video surveillance system.
1. What are the Different Types of Surveillance Cameras?
Each business has different security needs and goals. As such, the right types of cameras vary when outfitting a commercial security system.
Indoor Cameras
Indoor cameras are the most discreet, multi-functional, and versatile of the camera types. From customer flow analysis to theft investigation and employee monitoring, these cameras can monitor an entire room without blind spots.
Outdoor Cameras
Outdoor cameras are specifically designed to endure outdoor conditions. Reinforced housing protects hardware from extreme temperatures and high humidity while optimizing visibility in poor lighting conditions.
Vandalism Cameras
Vandalism cameras are particularly hardy to withstand harsh physical attacks and the elements. These cameras can be paired with motion and other sensor technologies to capture events with precision and reliability.
Thermal Imaging Cameras
Detecting heat signatures as visual hot spots and cool zones, thermal imaging cameras can detect intrusion even in the darkest conditions and serve as an early warning system for fires.
Centrally Managed Cameras
Centrally managed cameras leverage a decentralized architecture to allow for the highest level of video quality with low bandwidth requirements
2. Do I Want a Reactive or Proactive System?
Reactive video surveillance systems are just that - they're used for businesses to react to present or past threats. From here, businesses determine the level of risk and if they will take action to prevent similar threats in the future. For example, you might decide to call law enforcement when you observe an intruder in your facility's live surveillance footage. In this instance, you are simply responding to the perpetrator.
However, businesses and organizations that work with highly valuable and/or sensitive assets and information, such as government or financial institutions, need a more robust and preventative approach to security.
Unlike reactive security systems, proactive systems are security systems in place to prevent security threats before they happen. These systems can leverage technologies like sensory detection, cybersecurity, artificial intelligence, and even deep learning to mitigate security risks and capture valuable data for analysis.
3. Where are Recorded Videos Stored?
As video surveillance technologies become more effective and sophisticated, storage for the recordings and accompanying data insights is an important consideration. How much storage capacity you'll need depends on the number of cameras in your system, the cameras' resolution, the size and type of recording files, how long you plan to store the footage before overwriting or archiving, so on and so forth.
Cloud vs. On-Premise Storage
Storing your recorded footage and data in the cloud has many benefits, including 24/7 remote access, device flexibility, and greater storage capacity. On-premise storage or on-premise/cloud hybrid models also exist. However, workplaces are increasingly pivoting towards cloud-based systems across the board for convenience, accessibility, and reliability. On-premise storage also risks hardware failure, theft, or tampering, whereas MOBOTIX cloud services include robust cybersecurity and data protection measures.
All things considered, if you're making the investment in a video surveillance system for your business, it probably makes the most sense to futureproof the investment with cloud-based storage.
4. How is the System Accessed?
Security is no longer tied to a desk. Modern video surveillance systems like MOBOTIX offer fully integrated and scalable software that can be accessed from nearly any device. Leveraging internet protocol (IP) cameras, you can now stay connected with your live video surveillance cameras, recordings, and data via a mobile phone, tablet, smart TV, or desktop computer.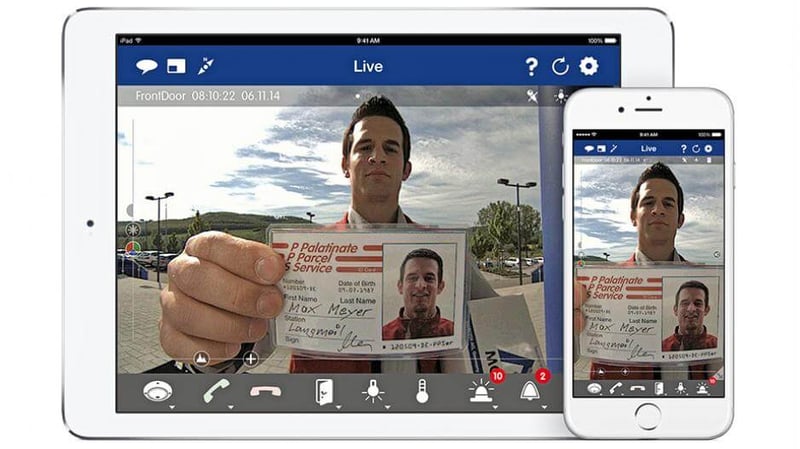 5. How Many Security Cameras Do I Need?
There's no single formula to calculate how many cameras a business or facility will need. There are, however, some important areas to consider, such as:
Parking lots
Property entrances/exits
Areas where employees work
Areas where customers are present
Areas where valuable assets are kept (money, products/inventory, data)
Because businesses are liable for most incidents that occur on the property, make sure the video surveillance system is positioned to capture important footage across most of the facility. Work with an expert VSaaS provider to discuss your organization's goals, assess important camera points, and properly design a video surveillance system tailored to your business's needs.
6. What are the Different Types of Playback Features?
Modern video management platforms should be a deep tool with myriad playback features, including:
Live Images - See what's going on in real-time.
Quick Search - Navigate quickly to a particular camera point.
Info, Grid, and Graphic Views - Customizable views of camera groups.
Multiple Cameras - View multiple camera points at once.
Filtered Playback - Filter view by camera, camera group, event type, and other criteria.
2 Monitor Playback - View footage from multiple monitors or devices.
7. Should We Buy a Security System from a Big Box Store?
Without sufficient cybersecurity measures in place, enterprise video security systems can be vulnerable to hackers and other attacks. News headlines about video surveillance devices being hacked by foreign entities have become more commonplace and increasingly troubling. Box store video surveillance systems do not come with the technical support or expert counseling necessary to ensure your system is properly secured.
Instead, consider a video surveillance system like MOBOTIX that deploys end-to-end, proactive, and intelligent cybersecurity protection.
8. Can I add MOBOTIX cameras to an Existing System?
Yes, MOBOTIX is designed with integration and flexibility as a top feature. The MOBOTIX video management system is Open Network Video Interface Forum (ONVIF) compatible, the worldwide open standard for IP-based security products such as surveillance cameras.
The software, camera, recording, and accessory components of the entire MOBOTIX system can individually combine with other ONVIF-compatible security equipment to scale your security system with ease, flexibility, and efficiency.
Selecting the Right Video Surveillance System
Video surveillance systems keep businesses, people, and assets safe. Modern systems span beyond the tired imagery of desk-bound security footage and now play an important role in internal process improvement, data collection and analysis, and proactive protection.
With technologies rapidly expanding and risks escalating, ensure your business has a trusted partnership with video surveillance experts to properly outfit your video surveillance system and position your infrastructure for scalability and growth into the future.
Editor's Note: This post was originally published on May 4, 2020, and has been updated for accuracy and current best practices.