Smaller organizations, non-profits, healthcare organizations, and city governments often have to bear the brunt of higher purchasing costs because they lack the volume and scale of larger corporations and governments.
However, there is a way that these organizations can enjoy the same kind of cost savings as large businesses through taking advantage of group purchasing organizations and cooperative contracts.
A group purchasing organization (GPO) is a platform that allows eligible businesses to join a group of other buyers who are interested in the same products or services. Cooperative and GPO contracts piggyback locally and nationally competed contracts for a variety of products and services. GPOs source agreements with strategic suppliers and those that can provide better pricing and contract terms than what GPO members can achieve on their own. GPOs play the role of the middleman by providing GPO contracts to their members that leverage preferable prices and contract terms, saving both time and internal procurement resources. GPOs typically provide a wide variety of vendors and contracts to qualified businesses.
Cooperative contracts are pre-negotiated, ready-to-use contracts that are used for specific industries or verticals. Procurement managers can utilize cooperative purchasing by searching for specific contracts by product type for use on a local, state, county, or national level. These contracts also allow organizations to lower the costs of procuring goods and services by harnessing aggregated purchasing power.
These resources offer many benefits for organizations that understand how to successfully leverage them to their advantage. State government agencies, school districts, healthcare groups, and nonprofits are typically the main customers.
Pandemic Proof: Timely and Relevant Resources
GPOs and cooperative contracts are timely resources that can provide organizations additional avenues to navigating the pain points uncovered by the pandemic, such as purchasing departments being maxed out and employees working remotely. The need for upgraded office equipment to accommodate remote work forces, as well as refresh equipment for expiring leases continues to be a requirement even during these challenging times.
GPOs and cooperative contracts have timely and relevant applications as these resources allow organizations to quickly navigate the disruption caused by the pandemic. For example, the pandemic has resulted in new requirements for software security and printer applications that need to be implemented quickly and efficiently. GPOs and cooperative contracts provide organizations speedy acquisitions inside legal bounds to ensure they stay compliant with the evolving COVID-19 requirements.
Between remote work and employees being overly taxed due to the pandemic, now is the perfect time to capitalize on GPOs and cooperative contracts to help organizations quickly, efficiently, and economically streamline the procurement process.
Advantages of Using GPOs and Cooperative Contracts
Organizations can take advantage of their GPO or cooperative contract affiliation during the buying process to lower costs through increased purchasing power, thereby eliminating the lengthy and costly Request for Proposal (RFP) process. This ensures that end-users get the exact product or service for their needs and applications, as well as securing additional benefits and guarantees included in the specified contract. Organizations also have the assurance that the contract is legally competed, vetted, and accepted.
1. Increased Buying Power
One of the biggest advantages of leveraging a business's GPO affiliation when buying office equipment or services is increased buying power. Cooperative contracts provide qualified organizations access to great prices on goods and services regardless of the size of the order by leveraging the collective buying power of their members.
Meridian represents multiple GPOs and cooperative contracts. As a Konica Minolta company, Meridian has the rare added benefit of having both national and local contracts including our proprietary Fairfax County Government contract. This local contract partners with a premier government agency in the D.C. market to offer regional, state, local, and city governments, plus K-12 and higher educational institutions discounts on equipment and services.
Meridian has established the following pre-negotiated contracts:
These partnerships increase end-user buying power to lower prices for products and services such as:
Personnel Services/Staffing
2. Skip Timely and Costly Solicitation Processes
By working through a GPO during the purchasing process, businesses can skip the lengthy and costly solicitation and bid process. Better yet, most GPOs can be joined and utilized at little or no-cost, which means that businesses can improve their procurement process for free.
In a traditional buying model, businesses spend a significant amount of time and money finding the right vendors and negotiating services and fees. A competitive RFP can cost upwards of $25,000 to administer so it may not be justified for a small procurement.
GPOs handle the entire process from writing RFPs, to navigating competitive solicitations, which save organizations countless hours and allows them to focus on other high-priority projects. In addition, the problem of bid protests in the RFP process is typically resolved through utilizing a GPO or cooperative contract as generally these contracts are non-protestable.
3. End-Users Receive Exact Product or Service Requested
GPOs and cooperative contracts provide organizations the power and purchasing authority to get exactly what they want, when they want it, at a discounted price they can afford. If an organization is looking for a specific piece of office equipment from a specific supplier, they no longer need to pay a high unit price due to low volume orders or settle for an overall inferior product.
Let's consider a hypothetical situation. Your organization wants to purchase three additional Konica Minolta bizhub C360i Multifunction Printers (MFPs) to go with the 10 you already have. You have done all the market research and due diligence and decided that Meridian's Konica Minolta MFPs are the most secure and the only machine that fits your organization's needs and requirements. Your organization wants to avoid the hassle and time it takes to switch brands and implement a new system.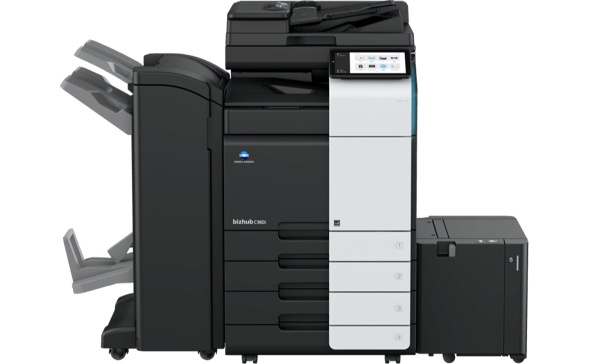 During a traditional solicitation process, the end-user's specific request and requirements for the MFP could be simplified down to factors such as speed, color or black and white, and other basic specifications. Many times, bids are chosen by the lowest price instead of best value, so when it comes time for the end-user to receive the three bizhub C360i MFPs as requested, they find out from procurement that instead they are now the proud owner of three potentially inferior products. The procurement team believes they have done a good job since they have gotten the best price for your organization, but the best price is not always the best value.
By utilizing GPOs and cooperative contracts, end-users will get the exact product or service they desire at a discounted price. Conversely, if the same organization decides to go through the RFP process independently, they risk going through the procurement process and missing out on the specific product that was requested.
4. Additional Benefits and Guarantees Embedded in the Contract
In addition to receiving discounted pricing for purchase orders, organizations get the added perks, guarantees, and protections that are already included in the contract. GPOs look for continuous benefits for their members by negotiating even deeper discounts and improving terms and conditions with participating suppliers.
For example, for a copier contract, a GPO can negotiate that members at the end of their copier lease do not have to incur the cost of returning the equipment. The GPO can secure an additional guarantee that requires the vendor to cover this part of the process and any associated fees. By using a GPO contract or cooperative contract, organizations can avoid these unnecessary fees, maximize discounts, and further mitigate risk.
5. Avoid Legal Process with Vetted and Accepted Contracts
Lastly, organizations can take advantage of their GPO affiliation or cooperative contract during the buying process by entirely avoiding the legal process associated with vetting contracts.
Organizations can take solace in the fact that all GPO and cooperative contracts are vetted and legally accepted. Businesses do not need to go through the expensive and time consuming process of ensuring contracts pass legal standards as these pre-negotiated contracts have already been accepted.
Sustained Value of GPOs & Cooperative Contracts in the Future
GPOs and cooperative contacts can be an organization's greatest ally in the never-ending fight against time. These resources can be leveraged to streamline the RFP process and ensure that an organization is receiving the exact product or service desired at a discounted price through a legally vetted, pre-negotiated contract.
As it turns out, the traditional way organizations have handled purchasing is difficult to navigate and full of inefficiencies. With a greater need for organizations to streamline their procurement process moving into 2021, GPOs and cooperative contracts have a much bigger role to play in providing a legal, easy, and quick procurement at a fair price.