Konica Minolta Business Solutions U.S.A., Inc. (Konica Minolta), Meridian's parent company, is proud to announce it has received the 2020 'ASTORs' Homeland Security platinum Award from American Security Today (AST) for its MOBOTIX Thermal Screening Station.
As the nation continues to respond to escalating threats from home and abroad, the United States is increasingly focusing on protecting public spaces, as well as IT/cyber security networks. Innovative companies are being tasked with protecting us in this time of vulnerability and Konica Minolta has filled this void time and time again.
Security as a Long-Term Promise
The Annual 'ASTORS' Awards - now in its fifth year - is the preeminent U.S. Homeland Security Awards Program, highlighting the most cutting-edge and forward-thinking security solutions coming onto the market today. Presented by American Security Today (AST), the premier digital media platform in the U.S. Homeland Security and Public Safety Industry, the program is specifically designed to honor distinguished solutions that deliver enhanced value, benefit and provide intelligence to end users in a variety of government, homeland security, enterprise, and public safety vertical markets.
'ASTORS' nominations are evaluated on their technical innovation, interoperability, specific impact within the category, overall impact to the industry, relatability to other industry technologies, and application feasibility outside of the industry. The 2020 'ASTORS' Homeland Security Awards Program was again a huge success with many new categories added, including a section for COVID-19 Detection and Innovation.
This is the fourth consecutive year Konica Minolta has been recognized as an innovative leader in the security industry having received multiple awards in the 2017, 2018 and 2019 'ASTORS' Homeland Security Awards Programs.
Konica Minolta continues to demonstrate their long term commitment to their customers: to always provide cutting edge technology solutions for optimal safety and security.
Cutting-Edge and Forward-Thinking Security Solutions
MOBOTIX equipment is used in a variety of industries and environments. The system's extensive capabilities work to help secure infrastructure, avoid intrusion and sabotage (including digital attacks), identify suspicious behavior, protect staff and citizens and most timely, provide a front-line screening process to detect and visualize temperature difference. The intelligent technology takes into account ambient conditions and measures temperature within .03 degrees Celsius accuracy.
Konica Minolta's forward-thinking design allows for MOBOTIX products to be easily integrated into pre-existing security infrastructure. The equipment can be installed to fit an organization's specific needs, whether for preventive purposes or discreet surveillance. MOBOTIX products can also be easily budgeted for, as the durable, low maintenance design cuts down on maintenance and replacement costs.
AI-based apps offer additional enhanced functionality and security at all levels. The MOBOTIX Thermal Screening Station is more than just another surveillance camera: it provides organizations with a one-stop solution tailored to meet their unique needs.
MOBOTIX Thermal Screening Station: Award-Winning Features
Konica Minolta's MOBOTIX Thermal Screening Station was selected for its thermal radiometry imaging technology that measures infrared energy quickly and efficiently. The all-in-one system comes with everything a business needs to establish a front-line screening process. The process would look similar to this:
Visitors and employees face the camera allowing for the inner canthus eye screening, the most accurate point for surface temperature in thermal radiometry.
Then, an operator can view the thermal image on the screen.
The screen then alerts in red and will identify those employees screening out of the predetermined temperature range. Temperature data is

saved on the dashboard

with clear green or red indicators of pass or fail.
The screening station also has the option for Mass Text Alert Notification with the Video Management System. This enables remote business managers to review and analyze an entire company or organization's screening information by aggregating information from all of the cameras in one place.
Konica Minolta offers a turn-key solution with built-in services to ensure your system is properly set-up, programmed and calibrated. The fully tailored system comes with everything businesses need to establish a front-line screening process including:
MOBOTIX M16 thermal camera
6MP optical color sensor
High-quality, portable cart with desk
Powerful laptop with keyboard and mouse
Screening solution software
LCD monitor
Professional set-up services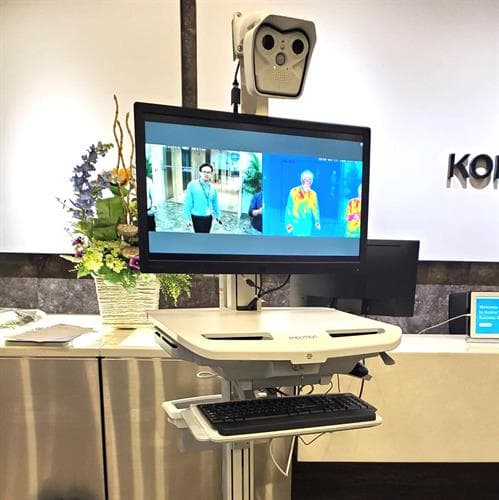 Technology Facilitates Customer Confidence
Technology such as thermal imaging has helped many customers across various industries smooth the transition and ease the health concerns associated with the "new normal." Konica Minolta's MOBOTIX Thermal Screening Station has provided a roadmap to sustainable health and safety procedures for businesses of any size.
Sectors such as education and government have started to see the applications a fully integrated MOBOTIX security system has to offer. Along with motion detection and video surveillance, thermal imaging and people counting capabilities can now provide organizations extra layers of defense as preventative measures in reducing exposure to the virus. Decision makers with foresight are increasingly turning to Meridian to integrate all-encompassing health and security solutions.
Some of these solutions include:
Video Surveillance
Thermal Imaging
Access Control
Motion Analysis
Noise & Movement Detection
Crowd Detection
Mask Detection
People Counting
MOBOTIX's intelligent video surveillance system provides a holistic approach to health, safety, and security to create a sustainable and manageable solution for any environment.
Back in Business: Navigating the New Normal
While the workplace may look different, comprising of new challenges and barriers, technology such as the thermal screening station can help businesses navigate the new normal, mitigate health concerns, and get organizations back in business.
As always, Konica Minolta and Meridian are committed to remaining an industry leading provider of cutting edge security technology so our customers can continue to enjoy the benefits of the most forward-thinking solutions the industry has to offer. In an ever-evolving security landscape, your organization deserves award winning technology that doesn't break your budget and keeps your employees and assets safe and secure.