Konica Minolta Business Solutions U.S.A., Inc. (Konica Minolta), Meridian's parent company, is proud to announce it has received the 2020-2021 Buyers Lab (BLI) PaceSetter award for Ease of Use: Enterprise Devices from Keypoint Intelligence.
The ease of use category highlights innovations and technologies that are high quality and alleviate pain points associated with usability. Konica Minolta's bizhub i-Series multifunction printers (MFPs) have been recognized for this prestigious award.
Keypoint Intelligence, the world's leading independent evaluator for document imaging, software, hardware and services, based its selection on comprehensive testing and research, determining which OEM has incorporated the highest degree of end-to-end ease of use in the design of their devices. An in-depth evaluation was also conducted on levels of differentiation spread across several categories, including importance of ease of use in product design, post-COVID solutions, and apps and onboard tools.
The Need for Ease of Use
Due to the need for enterprises to accommodate a variety of different users, easy-to-use MFPs are becoming invaluable. Organizations today need to provide employees across departments with hardware and printing infrastructure to meet their individual needs, which often requires upgrading current print environments. With this broad scope of functionalities, ease of use has become one of the most important features in modern MFPs.
To ensure organizations are able to maximize the benefits of their new infrastructure, Konica Minolta and Meridian adhere to a customer-centric approach to promote ease of use. This uncompromising mindset places the customer at the epicenter, promoting maintained contact with customers and additional detailed research to create custom tailored solutions. When developing a new MFP device, understanding use patterns, behaviors and user requirements are key components of the process.
The cornerstone of Konica Minolta's process is simple. It boils down to one question.
"Are we making the best quality products easy to use for you?"
According to the world's leading evaluator in the industry, they have.
Driving Innovation with Konica Minolta
Konica Minolta has a long history of being a pioneer in regard to the user experience of its MFPs. Last year, the jury of the 2019 Good Design Award praised Konica Minolta's bizhub A3 color MFP series (C360i/C300i/C250i) for their highly intuitive interfaces and user experience.
Although the ability to customize the MFP display to customers' individual needs has been offered for more than ten years, Konica Minolta and Meridian continue to innovate and drive advancements in ease of use even further. Konica Minolta's bizhub i-Series, including the recently introduced C650i/C550i/C450i, exemplify the continued focus on this award-winning interface.
Narrowing in on ease of use and user experience, the bizhub i-Series includes functionality for everyday usage, additional value through accessible and navigable apps, and optimizing productivity by allowing users to access their own personalized UI instantly on any device around the world. These features offer customers a pleasant user experience that is accessible and available to all. The intuitive design enables users to become familiar with the equipment the first time they interact with it. This inherent intimacy decreases training time, promotes seamless integration into office environments, and ensures an uninterrupted workflow for maximum productivity.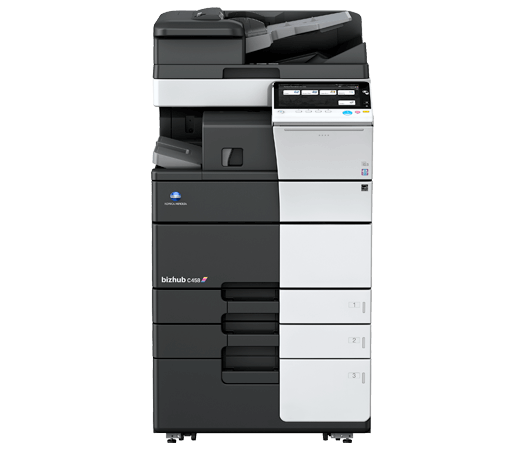 Functionality for Everyday Use
One of the factors that contributes to ease of use is functionality in everyday situations in enterprise work environments. With the award, Keypoint Intelligence recognizes Konica Minolta and Meridian's ability to integrate this factor into product design and development.
After conducting comprehensive behavioral research, Konica Minolta was able to identify what customers do with their devices and which functions are needed most. In response to the data, Konica Minolta created a unique, fully tiltable control panel to provide easy access to all basic settings and touch navigation for a smooth and pleasant user experience.
With a 24° to 90° tilt angle, the large 10" tablet style touch panel provides convenient accessibility and operation for all users.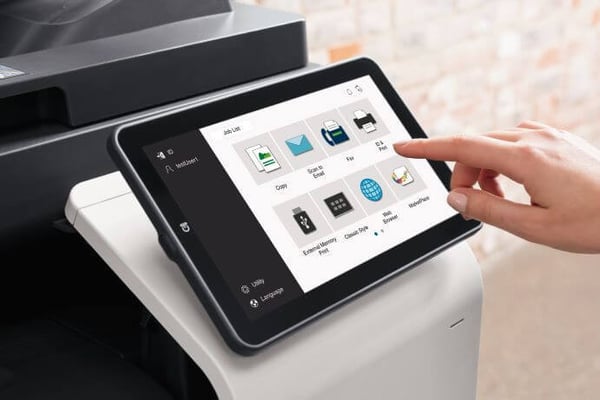 Access Additional Value with Apps
Konica Minolta and Meridian continue to differentiate from competition through innovation. One of the many consumer-friendly features of the bizhub i-Series is that MarketPlace, Konica Minolta's proprietary custom software for apps, comes preinstalled on all new devices.
MarketPlaces allows customers to access cloud offerings such as Box, Dropbox, Google Drive, Google Mail, Microsoft OneDrive, OneDrive for Business and Microsoft Sharepoint. All of these applications can be easily downloaded and accessed directly on the panel. In addition, the How2 app allows users to access online instructions directly from the MFP.
The functionality that truly separates Konica Minolta and Meridian's ease of use devices from competitors is the Follow-You-Persona feature. This enables customization of the MFP panel with all the necessary tools and apps of a specific user. This way, users can work more efficiently from any device, anywhere.
There's practically no learning curve and users can customize their screen similarly to the way they do for their mobile device.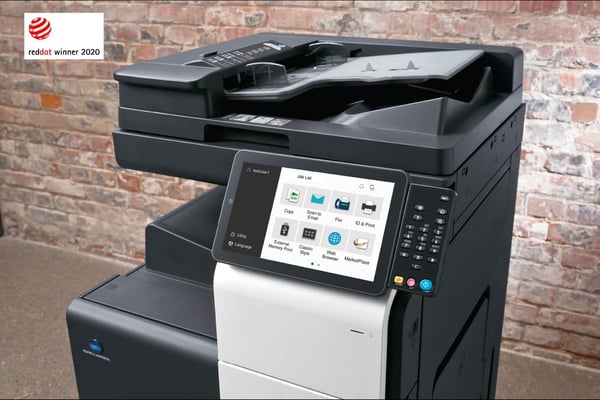 Ease of Use: Our Promise to You
Konica Minolta is honored to receive this award as it recognizes the diligent measures taken to understand customers' needs in order to develop and deliver tailored solutions that serve the individual preferences and working behaviors of our customers.
As Meridian continues to innovate and further progress, our focus will remain on design technologies that are intuitive and adapt to our customers. Our focus and our customer-centric mindset, has always been our guiding core value. Meridian technology is made to make your everyday responsibilities easier, so shouldn't using it be easy, too?