For businesses with a high volume print need, a multifunction printer may no longer be equipped to handle the expected daily print demands. In these circumstances, a digital production printer can provide a more appropriate upgrade for businesses looking to scale their in-house printing capabilities.
The New AccurioJet KM-1e Digital Production Press
Meridian has released Konica Minolta's AccurioJet KM-1e Digital Color B2+ Sheetfed LED UV Inkjet Production Press. Ideal for businesses looking to upgrade from a multifunction printer that can no longer meet their printing demands, the AccurioJet KM-1e has revolutionized the standard for stunning, high-quality printing and production speed so every job gets done right.
The production press is equipped with a 29" B2+ sheet-feed UV InkJet system. Its larger holding tray and enhanced sensitive technology allows it to manage a wide variety of media so all printing needs can be met in one secure location. With a wide range of substrate weights between 50 gsm and 400 gsm, the AccurioJet KM-1e media capabilities include textured and embossed paper, canvas, synthetic media, translucent media, clear plastic and film, plastic card, metallic media, and colored media to satisfy every in-house production printing need.
Printing Impressions interviewed, Taylor Corp., the first print service provider to install the press about the benefits they see the new equipment providing to their business and customers.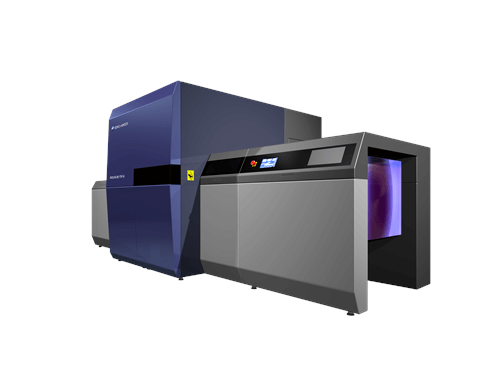 Thanks to a maximum printing speed of 3,000 sheets per hour, no external drying time, and a machine design that minimizes downtime between jobs, the AccurioJet KM-1e fits seamlessly into any business's printing processes in order to maximize productivity. An automatic tape insertion between print jobs also keeps workflow processes running smoothly.
Customers can now print anything they need for their business, providing them with the opportunity for vivid colors and engaging visual communication. A wide color gamut and 1200x1200dpi high resolution printing provide an exemplary standard for image quality, while supporting excellent text quality at any resolution. In addition, the production press supports an inline sensor for consistent quality, while maintaining registration accuracy throughout the printing process.
The AccurioJet KM-1e Digital Production Press combines the efficient dexterity of offset presses with the digital benefits of variable data printing. Workflow solutions compatibility include the Planet Press Suite, Accurio Flux, Secure, Connect, Media Ready, and CRD. By upgrading, businesses can seamlessly scale their in-house printing capabilities.
Is now the right time to purchase or lease new equipment? Learn more about the Section 179 Deduction for 2020 to see how if can benefit your business.