Modern print technology has made it possible to produce large volumes of high-quality printed material right in the office. Print technology is so good now, particularly multifunction printers (MFPs), that many commercial print shops use the same equipment found in many offices.
So, aside from the availability of professional equipment, why are many businesses now considering printing in-house?
From cost savings to convenience, read on to learn more about the factors involved when considering in-house printing over outsourced commercial printing.

Commercial Outsourced Printing vs. In-House Production Printing
Commercial printing still provides a valuable service in the business world. Large runs of high-quality or specialized material are still, in most cases, better suited for commercial print facilities. But, with the wide variety of hardware and software solutions available, most enterprise print requests are fulfilled in-house.
The solutions vary from a single high-volume MFP to a fleet of in-house digital printing presses. An InfoTrends study indicates that printing in-house for lower run-length job orders is less expensive, requires less net time, and can produce the material needed with less waste than having the same job done commercially.
The chart below shows a great apples-to-apples comparison of in-house and outsourced printing.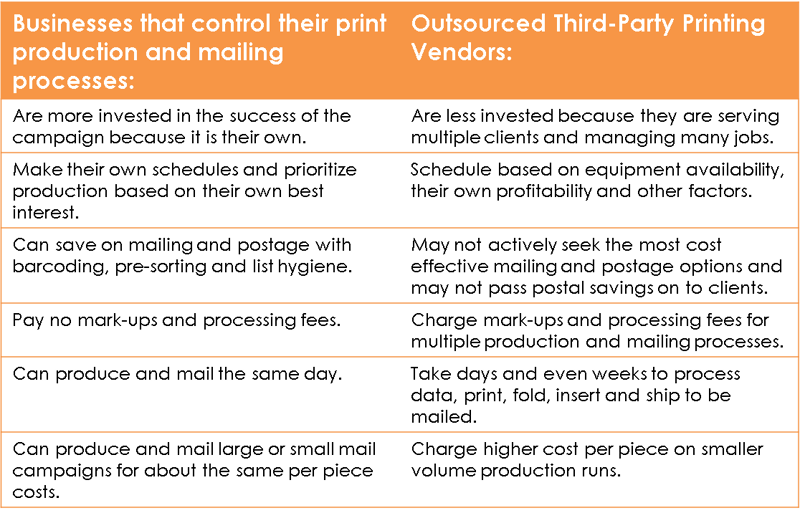 (Adapted from Pitney Bowes' article, The Myths Behind Outsourcing)
Now that you've reviewed the differences between in-house vs. outsourced, here are some of the benefits of implementing in-house printing for your enterprise.
Benefits of In-House Production Printing
Versatility and Convenience
Consider a print center at a University. Obviously, despite the so-called paperless revolution, students of all ages, and faculty members, still generate a lot of printed material. As a model for any enterprise-run print shop, the typical university print shop is full service and can be scaled down to fit any sized organization. Many law firms, medical offices, secondary schools, production plants, and nonprofits have in-house printing facilities similar to those found on many college campuses, though often on a smaller scale.
The typical university print shop, or any in-house print facility for that matter, must be service-oriented. It usually serves an array of academic, administrative, and student organizations on campus, intending to provide excellent service and quality at competitive prices. It must be adequately staffed with qualified, service-minded personnel who understand their clients' needs.
Here are some of the versatile printing services provided by most college print centers:
Copying – Black and white, color, and high-speed copying.
Custom Printing – Print in various material formats, including forms, newsletters, brochures, labels, bound publications, journals, and cards.
Graphic Design – Scanning, typesetting, and layout design tips.
Binding – Powerful finishing options including collating, folding, mounting, and laminating.
With the right office equipment, personnel, and training, these and many other print services can be provided in-house to any organization, enabling them to print what they need when they need it. With in-house centralized printing, end-users can send print jobs to known locations and receive timely notifications of when to pick up the printed material. This added layer of convenience is crucial as it can minimize social interactions and limit COVID-19 exposure from a health perspective.
Security
In the era of data breaches, information security is a hot-button topic for almost all organizations, regardless of their industry or function. Security is a common factor across all facets of an organization's technology and operations, and printing is no exception.
Any organization that outsources production printing must pay incredibly close attention to what kinds of data they are printing, how the data send to the outsourced printer, and how the outsourced printer handles, uses, and stores the data once received.
Professional services industries — including law and finance — have taken notice of this concern, and, as a result, many have begun to move towards in-house production printing, especially for jobs containing sensitive or private data. Industry groups like the American Bar Association and AICPA have published guidelines and further information about outsourcing and its implied security concerns.
Cost Control
Cost control is another benefit of the do-it-yourself print approach. Retail print pricing at commercial establishments typically does not differentiate based on toner or ink coverage. Jobs with light coverage usually cost the same as print jobs requiring many toners. However, if the same job were produced in-house, the actual cost would reflect only the toner used. Toner is expensive enough without paying for more than is used. Of course, other factors such as hourly wages, the paper used, and standard equipment depreciation also factor into the equation.
Save Time and Money with an In-House Printing Solution
Print solutions vary according to the individual needs of each organization. Businesses should partner with an experienced managed print service provider to receive a comprehensive print environment audit to determine if an in-house printing solution is suitable for their company.
Editor's Note: This post was originally published on March 8, 2018, and has been updated for accuracy and current best practices.