Managing your office can be a difficult endeavor. It's an ongoing responsibility that involves a lot of working parts.
Between document and network management, there is never a shortage of processes and systems to assess, issues to address or methods to reconsider. However, the key to ensuring the work of your organization gets done as efficiently and as cost-effective as possible all comes down to your workflow.
Business processes are usually created holistically over time. As such, there are often a lot of areas that overlap, producing redundancies and inefficiencies.
These pitfalls, in turn, lead to unnecessary costs and delays, and hamper the overall performance and success of an organization. As your organization grows and evolves, it's important to adapt operations in tandem and consistently evaluate workflows to ensure they reflect the best possible way for work to get done.
There are a number of ways to create a winning workflow strategy. The first step is to get a clear picture of what processes and systems are in place right now.
One good way to start is by creating flow charts to determine what the steps and procedures are for each process, then use that to compare them with employees' actual expectations and behaviors.
Putting these processes down on paper and presenting the information in a tangible form can help you identify breakdowns and pinpoint areas to improve that you may not otherwise have noticed.
Once you've done this, follow these steps to creating a winning workflow strategy:
"When it comes to workflow, remember that redundancy is the enemy of efficiency."
1. Automate where and when possible
In this day in age, failing to take advantage of the opportunity to streamline and automate certain parts of the organizational workflow, such as document management or managed IT services, puts you at a competitive disadvantage.
Often, leveraging the assistance of a third-party partner, particularly when it comes to print, document and IT management, is beneficial, because these partners can handle it with more efficiency than those within your organization, who are busy focusing on their core competencies and keeping your business running. As a result, it allows the organization to save time and money, eliminate inaccuracies and inefficiencies and, in turn, focus more on core business objectives.
Related: How to Take Stress Off Your IT Department: Go hybrid!
2. Get as specific as possible
By definition, workflow is the process of how work gets done. And while the workflow is essentially an outline of the structure used to complete the work and move it through the organization, when developing a winning workflow strategy, it is helpful to further break it down step by step.
The more granular you get about each function involved in the production line, the better your overall workflow map will flow. Take any and every opportunity to eliminate repetitiveness. Remember when it comes to organizational productivity, redundancy is the enemy of efficiency.
3. Have a professional assessment conducted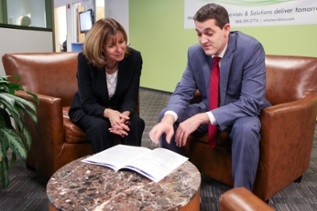 The truth is that, if most organizations had the time or perspective needed to adequately assess and restructure their workflow, they would. After all, if you realized a better way of doing things, wouldn't you be doing it?
Workflow assessments can give you the in-depth observation needed to enhance your organization. Third parties offer an unbiased and comprehensive observation of the organization, looking into all areas and considering all perspectives of people at every level.
Some (like Meridian!) even have access to a portfolio of multiple partners and solutions to meet this kind of need, so they can advise on which truly fits your organization and its workflows best.
By conducting a workflow assessment, you can realize significant cost savings improve end-to-end efficiencies. At Meridian, we offer workflow assessments that help leverage critical information about the systems and procedures contained in your office and turn them into actionable insights for improving them.
Once you have this information, you'll know exactly what changes you need to make — as well as which processes would be most valuable to outsource.