The modern multifunction printer (MFP) is a marvelous engineering achievement. Through a complex combination of digital electronics, laser optics, and analog engineering, a small-to-midsize business (SMB) can now produce large quantities of high-quality copies and prints in house, instead of ordering them from a print shop. The office printer has become as important to most enterprises as its computer system, making its upkeep and repair just as important.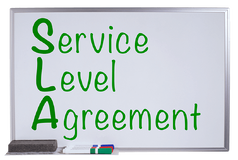 The best way to ensure smooth print operations is with a service level agreement (SLA), and here are seven reasons why:
Predictable operating costs

An ounce of prevention

Insurance

Only highly trained personnel should work on your MFP

Better service response time

Remote help

Complete and accurate service records
---
1. Predictable Operating Costs
A service level agreement takes the uncertainty out of maintenance costs. The right SLA (like one we offer here at Meridian) can eliminate surprise print-related expenditures by providing:
All consumables, including toners, drums, maintenance kits
All repair and preventive maintenance labor
All parts — from fuser units, transfer kits, waste toner bottles, rollers, paper guides — everything
Guaranteed response times and uptime guarantees
RELATED: How a Virtual CIO (VCIO) Can Help DC Small Businesses Budget Better
2. An Ounce of Prevention
Preventing mechanical problems before they happen is the best cure for downtime. Performing regularly scheduled maintenance on any mechanical device whether it's an automobile, an airplane, or a multifunction printer is the best way to avoid costly (both in time and money) repairs before they happen. An SLA with a proactive managed print solutions provider will guarantee that preventive maintenance gets done.
3. Insurance
The modern MFP can be a substantial capital investment and is usually insured. Most warranties assume a certain amount of required maintenance will be performed. An SLA meets, or exceeds, those requirements.
4. Only Highly Trained Personnel Should Work on Your MFP
MFPs are complex mechanisms. They are both digital laser devices and sophisticated analog machines with many paper paths, rollers, brushes, drums, optical readers and laser projectors – plus their own set of software. They deserve, and manufacturer warranties require, trained and qualified technicians to maintain them. You should look for techs like those at Meridian who average over 10 years of experience and attend regular training classes.
An intangible, added benefit of working only with qualified technicians is that your enterprise's employees get properly trained in operating these complex devices. The extent of training offered can vary based on your provider. Make sure you have a good understanding of what kinds of training your provider is promising, and how much training is included with your contract, prior to signing your service contract so that your employees can take full advantage of your MFPs' various features.
5. Better Service Response Time
In today's office, downtime is a huge problem. Substantial loss of productivity can result when a networked MFP becomes non-functional. If a tool that has been providing printing, copying, faxing, scanning, document routing and storage; and more suddenly goes offline it can be disastrous for an SMB. An SLA will guarantee that a qualified technician will either solve your problem remotely or be at your office within a contracted-for period of time. The peace of mind this provides an enterprise is worth it. Some SLAs can guarantee a minimum of uptime for your MFP, depending on the contract, equipment, and software used.
RELATED: The Real Cost of System Downtime
6. Remote Help
Customer help desk assistance can be made available with an SLA. Call centers staffed with knowledgeable, courteous, professional technicians will respond to, and often resolve problems remotely — Meridian's Copier IT Help Desk can resolve up to 75% of issues remotely. Remote help can be accessed throughout the business day, and up to 24x7, depending on the SLA, although 24x7 support typically comes at an additional cost. An assessment from a qualified service provider is the best way to determine your organization's service requirements.
7. Complete and Accurate Service Records
With an SLA, there is no chance that performed maintenance and repair work will not be done as scheduled, and recorded. This is important not only for the mechanical health of the device, but also for leasing, insurance, and warranty purposes.
An SLA will make it possible to keep accurate service records of your MFP including: a service history; response time; the problem addressed; the date of the service call; length of time and number of copies between service calls; and parts used. Additionally, some service providers (like Meridian!) offer an online portal where you can access your service history 24x7 and track compliance with SLAs.
---

There are many other reasons to have a service contract with your MFP. An assessment of your environment from the right service partner is the best way to determine the best plan for your company.