The pandemic has caused an economic crisis and disruption across many industries – forcing businesses to rethink how and where they conduct operations. In the face of these changes, the printing industry continues to move forward, developing new techniques, technologies, and approaches to customer attainment and retention.
The status quo in printing will never be the same. Still, by recognizing the current production printer trends and understanding how to use them, professionals in the printing industry can continue strong operations. They can do so with fewer layoffs, safer working conditions, and streamlined workflows.
To help your business stay ahead of the curve, here are the top nine production printer trends for 2023.
1. Continued Shift to Digital Printing
Numerous aspects of practically every industry are trending toward digital technology in 2023. The printing industry, of course, is no different as digital printing continues to surge forward. Digital printing provides a convenient, affordable, and efficient way to print digital content directly to various mediums.
Digital files like PDFs can be sent to a digital printer and printed on:
Paper
Canvas
Plastics
Cardstock
Smithers, a consulting firm, states that digital printing now has a 19.3% share of the entire $821 billion global printing market, an increase from 15.7% in 2017. The increase in market share is a direct response to the next generation of digital production printers coming to market.
These high-quality production printers have advanced features to boost productivity and image quality. Digital printing can reshape how companies conduct printing operations, and as technology advances, the price will likely decline even further.
How to Leverage Digital Printing in 2023
Businesses can take advantage of the speed and effectiveness of digital printing by using printers like the Konica Minolta AccurioPress C6085 digital color press. This powerful digital printing press allows professionals in almost any industry to increase output while delivering color quality and cost efficiency.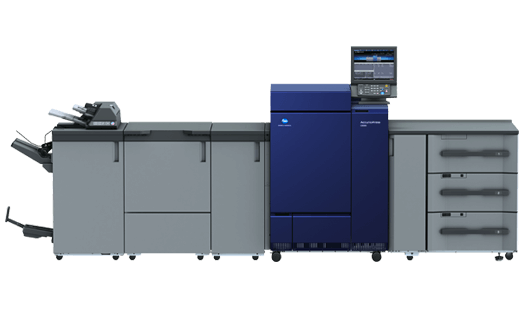 2. Focus on Sustainability
The focus on sustainability will inevitably continue with increased pressure on businesses to maintain environmentally-friendly practices and a growing awareness and appreciation for these issues among business owners.
One of the ways that businesses have enhanced sustainability and reduced waste is through on-demand printing for customized materials. Previously, companies would have to place large orders to keep prices down; now, businesses can order what they need. If changes are required at a later time, there are far fewer materials going to waste.
Printing facilities are also implementing in-house recycling centers to reduce waste. These centers can decrease wasted paper, ink, cartridges, and other byproducts of the printing process.
How to Leverage Sustainability in 2023
Businesses can join this trend through various efforts, such as reducing paper jams in their printer. However, the most impactful will likely be repurposing scrap paper and other printing media, a simple but effective effort. Organizations with the right resources can implement in-house recycling programs, equipment, and facilities.
3. Variable Data Printing Capabilities
Businesses highly involved in advertising often use mailers and other printed media to increase brand awareness, advertise products, and entice new customers. Previously, these printed items were all the same, but with Variable Data Printing (VDP), companies can create customized messaging for specific recipients. VDP uses software and data spreadsheets to automatically change the output of a digital printing press, making adjustments to personalize messaging.
For example, an auto dealer could use VDP to create customized mailers with individual customer names and vehicle types. Mailers for people who purchased SUVs could have images of SUVs, while mailers for customers who bought trucks can have images of pickups.
How to Leverage Variable Data Printing in 2023
Any business that invests in digital printing can implement VDP technologies. In theory, this can increase the response rate and make customers more likely to purchase. Current data indicates that 88% of customers are more likely to buy when retailers provide personalized suggestions.
4. Digital Label Printers
Instead of being on the waiting list of a busy printing firm, businesses are taking their printing efforts into their own hands, implementing digital label printers as part of their operations. Every physical product needs a quality label, and digital label printers make it possible to print short-run packaging.
Digital label printers provide numerous benefits to users:
Produce high volumes of labels conveniently and quickly
Decrease turnaround time as businesses are not delayed by label printing
Enable on-demand results for special events, promos, and customer personalization
Increase customization over traditional label printers with set colors, cuts, and formats
How to Leverage Digital Label Printers in 2023
Organizations can take advantage of this production printer trend with the Konica Minolta AccurioLabel 230. This high-performing digital label printing press is the third redesign of Konica Minolta's toner-based printer series, offering higher speeds on tack paper and tack films.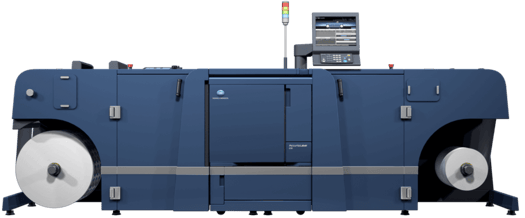 5. Expanded Product Offerings
It's a challenging time for printing companies, and many groups are learning that to stay competitive, they need to expand their products and services. While some are cautious about over-extending and reaching into sectors where they can't be competitive, many are considering product options like printing enhancements and special effects. Offering various options allows businesses to charge a premium rate for their services.
How to Expand Your Product Offerings in 2023
Companies that want to expand offerings can select the Konica Minolta AccurioPress C14000/C12000. This machine can perform various functions, including new finishing options and media compatibility.

6. Special Effects & Finishings
Companies and consumers expect more than a blank sheet of paper with a few words and stale imagery. In 2023 and beyond, special effects and eye-catching finishings will be vital as businesses fight to get the attention of their potential customers. The ability to lay down neon, white, clear, or custom toner in specific locations will enhance a printed piece and make it more attractive to the recipient.
Varnish can be added to create 2D or 3D effects, while foil, metallic, laminate, and gloss can now be added to documents. "Shimmering" can be added to draw attention to one or more areas of the print, and laser cutting can create unique textures.
How to Leverage Special Effects & Finishings in 2023
The Konica Minolta MGI JETvarnish 3D Evolution printer allows companies to add dimensional sensory textures to printed products. It can add automatic varnish and hot foil for enhanced visual results.

7. Printing on New Substrates
The ability to print on various substrates will enhance offerings and attract more customers to printing companies. Substrate versatility is one of the top-selling points for various industrial print technology, as customers are looking for the ability to print paper and non-paper materials. Users can now print on:
Glass
Textiles
Metal
Packaging
Labels
The trend will likely continue, and more substrates will become available for printing. Technology allows users to gain the same benefits (efficiency and customization) across countless materials.
How to Print on New Substrates in 2023
The Konica Minolta MGI JETvarnish 3DS improves the printability of substrate material, regardless of the printing process. It can print matte and glossy surfaces, layered paper, plastic, PVC, and other coated materials.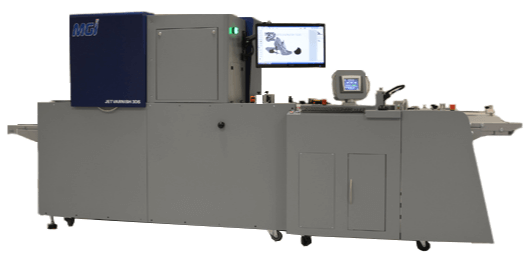 8. Streamlining Workflows & Moving In-House
Streamlining workflows is essential for any business conducting printing operations, and many achieve this efficiency by moving their processes in-house. The benefits of in-house printing are plentiful. Besides cost savings, there are also security and - during the current pandemic - health benefits for working in-house and not expanding contact with other printing services.
Businesses can also achieve greater control and make changes swiftly. While large-scale printing of top-quality materials is still best done by commercial print facilities, companies see positive results by bringing their printing in-house.
How to Streamline Workflows and In-House Printing in 2023
The Konica Minolta AccurioPress 6136 Digital Press allows organizations to bring their printing efforts in-house thanks to high print speeds and high-quality black-and-white output. In-house printing creates a more streamlined process and can result in faster changes and quicker project completion times.

9. Short-Run Printing Focus
In the past, finding a printing firm that would print a single copy or a small run at an affordable price was virtually impossible. This was a simple matter of economics, as the labor involved in the offset-printing process made a small batch expensive on a per-sheet basis.
Digital printing reversed this trend, as on-demand printing, in the short run, is more cost-effective and efficient. With digital printing, it's affordable for organizations to offer short-run printing services, opening their doors to more potential customers.
How to Offer Short-Run Printing in 2023
Riso printers allow for efficient and cost-effective short-run printing, creating new opportunities for consumers while expanding the customer base for printing firms.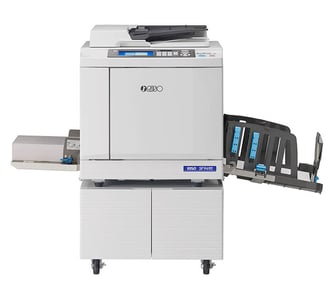 Embracing the New Production Printer Trends for 2023
As organizations grapple with the ever-changing business and printing landscapes through 2023, it's key to stay flexible. Figuring out how to remain a viable production print business or in-house facility can be difficult, but knowing the industry and consumer trends can help determine the next best steps and guide teams as they adapt to the new demands of production print.
Ready to take your printing to the next level? An experienced print specialist will help you select a suitable digital production printer that meets your needs while offering unparalleled speed, superior image quality, and robust endpoint security.
Editor's Note: This post was originally published on November 22, 2022, and has been updated for accuracy and current best practices.