Every day, I'm on the front lines of Managed Print Services, working with clients to resolve business challenges associated with the operations and management of their print fleets. Fleets vary, but the challenges they produce for IT, Facilities and Purchasing can be quite costly to an organization's bottom line.
Take into consideration the effect that a solid decision-making process can have on the efficiency of operating a large fleet of assets. Most organizations have traditionally acquired multifunction devices (MFDs) from a single provider that delivered a break-fix model within the operating costs of the equipment. However, since printers have always been peripherals to computers, they have generally been managed and deployed out of IT departments. Somewhere in the middle, purchasing processes POs for their copier management and buys supplies for a heterogeneous fleet of inkjet and laser printers. IT is then typically left to manage this hodgepodge of printers, copiers and fax machines.
With each operation trying to independently handle these shared machines, it's not shocking to hear that 24% of IT helpdesk calls are related to issues on these devices.
Read on to learn about each of these 3 phases of successful print fleet management, as well as how you can implement them and reduce the burden on IT, facilities management and purchasing personnel:
Management and reporting

Optimization

Innovation
The 3 Phases of MPS
The evolution of the MPS market has created three distinct phases of implementing a managed solution. Cost savings are positively correlated with the progression from stage one to three but the ease of implementation (cultural acceptance) of the solution is negatively correlated.
RELATED: 4 Ways DC Businesses Can Save Money Through Managed Print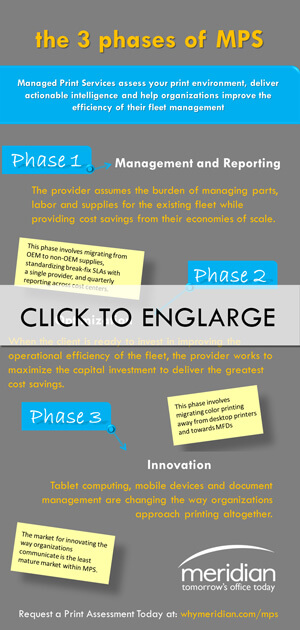 In order to prevent these issues, the Managed Print Services industry has evolved and spawned a new generation of service providers that can assess your print environment, deliver actionable intelligence and help organizations improve the efficiency of their fleet management.
Phase 1: Management and Reporting
The provider assumes the burden of managing parts, labor and supplies for the existing fleet while providing cost savings from their economies of scale. This phase involves migrating from OEM to non-OEM supplies, standardizing break-fix SLAs with a single provider, and quarterly reporting across cost centers.
RELATED: 7 Reasons You Need a Copier Maintenance Contract and SLA
Phase 2: Optimization
When the client is ready to invest in improving the operational efficiency of the fleet, the provider works to maximize the capital investment to deliver the greatest cost savings. This phase often involves migrating color printing away from desktop printers and towards MFDs. A common goal is to standardize and network all remaining assets to leverage the monitoring capabilities of the diagnostic application.
RELATED: 3 Steps to Avoid Analysis Paralysis and Right Size Your Printer Fleet
Phase 3: Innovation
The market for innovating the way organizations communicate is the least mature market within MPS. Tablet computing, mobile devices and document management are changing the way organizations approach printing altogether. Dare we call it phase 4 when the provider starts managing those assets as well? This is the Rubicon where we've left MPS and entered into Managed Service
Don't let an unmanged print fleet cost your organization time and money. In 3 phases, you can successfully achieve printer management through managed print services. To see how printer management solutions can help you, request a free demo now by clicking the button below, or request an assessment of your printing environment at http://www.whymeridian.com/services/managed-print-services.
Todd Stanton is a Solutions Manager with Meridian. He has a long history of performing and presenting printer fleet evaluations and an expertise in formulating strategies for print fleet savings, and currently manages Meridian's Managed Print Services Program. He can be reached at tstanton@whymeridian.com.