Spring has sprung here in the Nation's Capital and the cherry blossoms are in full bloom—and so are the hot dog vendors. The chili dog I had in front of the Smithsonian Museum this weekend was remarkable for two reasons. One, it was an authentic New York wiener with the crisp outer casing that I like. Two, the vendor was updating his inventory on a tablet computer as he served up my dog. I love the fact that a small businessman can now take his office with him.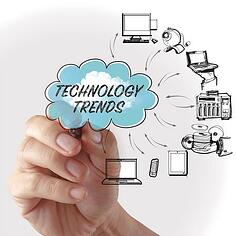 The Don Draper era is over. Large rooms with rows of desks were long ago replaced with office cubicles, but now the very nature of the modern office is changing as five key trends continue to bring tomorrow's office here today: mobility, collaboration, the cloud, X as a service, and the ubiquitous Internet.
Mobility
As a result of the bring-your-own-device (BYOD) phenomenon the mobile workforce will continue to grow. According to Kiplinger.com, by 2016, nearly 40% of U.S. businesses will have workers using their own mobile devices instead of enterprise-issued ones. This will continue to challenge IT departments both in management policies and security issues. Not only will workers want to have mobility outside the office, they will need fast, ubiquitous Wi-Fi connections within the office to better collaborate with colleagues.
Collaboration
We have always collaborated in the office, but with today's technology, collaboration has become a strategic necessity. Just as the literal walls of the office of the past have gradually disappeared, the virtual barriers of the desktop are also dissolving.
Unified communications, including document sharing, audio and video conferencing, Web conferencing, instant messaging and calendar sharing are standards in today's office and to a large part are being driven by mobile devices and by an increased dependence on the cloud.
The Cloud
The increasing demands of mobile users and the subsequent need for larger servers and storage capacity is speeding enterprise migration to the cloud. This virtual migration of networks, both local and wide area, is turning the cloud into an extension of the enterprise.
However, IT departments will have more responsibilities, not less, as clients who have performance issues call on them for help. Also, the integration of personal and public cloud services is becoming imperative for many enterprises. This hybrid model should always be kept in mind when planning a cloud strategy.
XaaS
Anything, (X), as an IT service, is a rapidly expanding trend, especially among managed service providers (MSP). Software as a service (SaaS), hardware as a service (HaaS), and infrastructure as a service (IaaS) are some of the wide range of outsourced products that an MSP can support.
Both software and hardware can be purchased or leased and then maintained and managed remotely. This leveraging of technology and human resources frees enterprises to focus on their core mission rather than IT.
The Internet of Everything
Already, the Internet has expanded beyond the desktop and mobile devices. Smartphones, tablet PCs and wearables, such as Google Glass and Samsung Galaxy Gear, are just the beginning of an entire Internet-connected ecosystem. Connected televisions, cars, houses and of course – offices, are all here to stay. Low cost sensors, including remote video cameras, lower computing and storage costs, pervasiveness of high speed broadband networks - these are just some of the factors driving the rapid penetration of the Internet into many facets of both private and public life.
According to businessinsider.com, there are currently about 2.5 billion devices connected to the Internet. That is estimated to reach about 9 billion by 2018. The business benefits of such an expansion are huge and are not limited to just large enterprises. Small and medium-sized enterprises (SMBs) will likely experience better operational efficiency, increased customer awareness, and easier collaboration as well.
As the office environment changes and technology evolves, awareness and implementation of these five trends proves essential to the success of any business. Mobility and BYOD policies provide flexibility in and out of the workplace, along with collaboration and unified communications. IT departments must become familiar with cloud services, virtual migration, and different services including SaaS, HaaS, and IaaS. With a technology plan that considers all of these key factors, any office should run smoothly and efficiently down the path of optimum success.
For more information on creating an effective technology plan for your organization, check out our informative whitepaper: 4 Key Elements to Consider When Building Your Technology Road Map.