Windows Server 2003, Windows XP, and Exchange 2003 will reach their end-of-life on April 8, 2014, which means that Microsoft will no longer support maintenance, security updates and patches for the systems.
After this date, these systems will lack protection from Malware and Spyware software—hackers are waiting in the wings to attack once these systems become vulnerable. Furthermore, systems running on Windows Server 2003 or XP will no longer be HIPAA Compliant once the deadline hits.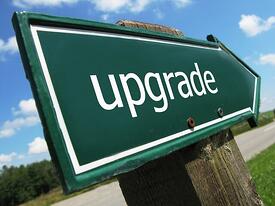 Many of the companies that are still using this software are running it on older equipment, so it may also be a good time to consider a software and hardware upgrade. In making this decision, it is important to analyze your business needs and processes to decide whether physical servers, virtual servers, or cloud-hosted servers would be the best fit.
Updating to cloud-hosted servers and systems like Windows 8 would allow users greater accessibility, redundancy of systems, and the option to work from home and the office interchangeably. Users would be able to keep their mail, calendars, and personal or work files 100% in sync across all devices, allowing greater mobility and efficiency.
It's important to make sure your hardware and software match up in terms of upgrading and compatibility. Virtually any PC acquired in the last three years is largely overpowered and under-utilized in an XP environment. When upgrading your software and moving away from XP, it's imperative you also upgrade to hardware that can handle further security enhancements, additional BYOD-friendly features, and a smooth transition away from outdated XP operating systems.
Finally, you must consider financing and budgets. Purchasing all new hardware outright may or may not be the right option for your company—Hardware-as-a-Service (HaaS), which often allows companies to change hardware from being a capital expense into being an operating expense, may be a better option for you.
Are you sure that your network security is up to date? Request an IT Assessment today to ensure that your network environment remains secure and compliant.
Jordan Arnold is Meridian's Director of Enterprise Resources. Known as a resourceful problem solver, she works tirelessly to ensure that each of our clients' unique needs are met in a timely and friendly manner. She can be reached at jarnold@whymeridian.com.