Please scroll down to learn more and view positions, or jump to current openings.
---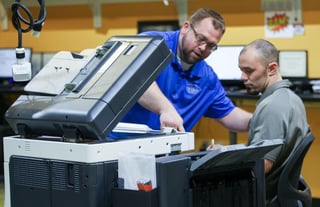 Meridian is a leading provider of managed IT services and document solutions to a diverse client base throughout the DC metro area.
Experts at integrating office technologies, our company's motto, Meridian Means Service, reflects our mission to help clients get the most out of technology by combining great customer service with cutting-edge hardware, software and professional services.
As a wholly-owned subsidiary of Konica Minolta Business Solutions USA, Meridian employees have access to the resources and opportunities that come along with working for one of the largest and most reputable office technology innovators in the world.
Click on a position below to be redirected to the Konica Minolta career applications program, where you can:
Read the full job description and review position details
Create an account and applicant profile
Submit job application(s)
Track progress throughout the application/interview process
---
Current Openings...New positions added in 2019!
Meridian, a wholly owned subsidiary of Konica Minolta, is a leading provider of managed IT services and document solutions to a diverse client base throughout the DC metro area. From smart office technology and information management to cloud, mobility and IT services. Our award-winning products and solutions help companies move information faster, improve quality and productivity, enhance security and facilitate the sharing of information. We are proud that our portfolio leads the industry while exceeding environmental standards. At Meridian, you'll work for an amazing technology company with growth opportunities, great benefits and talented, passionate co-workers. Position Objective • Develop and maintain a productive sales team to consistently achieve company targets. Develop and implement sales strategies for... READ MORE >>>
**Six Figure Earning Potential**
Meridian, a wholly owned subsidiary of Konica Minolta, is a leading provider of managed IT services and document solutions to a diverse client base throughout the DC metro area. We are looking for Executives who will be responsible for acquiring strategic accounts within the DC/VA/MD area. This is a great opportunity to join a company that has a strong brand built on a 30 plus year reputation of excellent customer service and to grow your sales career. If you've been working in outside, business to business sales, have a proven track record and a desire to continue building a successful career, you'll have that opportunity as a Strategic Account Manager at Meridian...
READ MORE >>>
We are looking for a Field Service Technician who provide customer service by maintaining, servicing and repairing office equipment at customer locations within assigned territories/accounts. We're looking for someone who demonstrates exceptional customer service, organizational, and prioritization skills. You need to demonstrate strong mechanical aptitude, and be able to work independently without direct supervision...
READ MORE >>>
We're looking for a Parts Coordinator to perform daily operations required for the acquisition, stocking and distribution of all service related parts orders using manual and computerized methods. Parts Coordinator is also responsible for providing clear and concise information (related to parts needs) to dispatchers and service technicians. We're looking for a candidate who demonstrates excellent verbal/phone communication skills, is self-motivated, operates with integrity, and is very disciplined. It is a plus if you have previous customer service and/or warehouse experience...
READ MORE >>>