In large enterprises, the Chief Information Officer (CIO) has the responsibility of applying appropriate technology to help the company achieve its business objectives. Many small- to mid-sized companies cannot afford the expense of a full-time CIO, which can range upwards of $150,000 – $250,000+ per year in the DC market.
Read on to learn about these 5 VCIO benefits for SMBs:
Predictable technology budgets
Decreased operating costs and improved productivity
Analyzes and reports findings and recommendations
Security, business continuity, disaster recovery, and compliance
Revenue
The need to leverage technology effectively while controlling costs isn't going away, especially for SMBs in our nation's capital. In response, we've noticed a growing trend where SMBs partner with professional services firms with technical expertise (like Meridian!) for Virtual CIO (VCIO) services. Comprised of an entire team of experts — which is not financially feasible for most SMBs — VCIO services are an affordable and effective way to fill the CIO role.
1. Predictable technology budgets, both short- and long-term.
There are many ways in which VCIO services help enterprises budget more efficiently. An effective virtual CIO will take the time to understand your organization's core goals and help you accomplish those goals by creating a plan, or Technology Roadmap, that syncs your goals, needs and expectations with the right technology to meet them.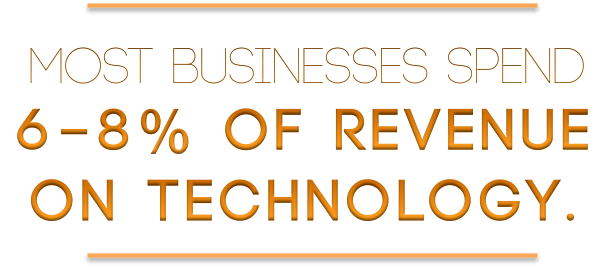 Most businesses spend about 6-8% of revenue on technology-related expenses. The scary part is that many do so without a plan, especially not one as detailed or effective as an up-to-date Technology Roadmap.
The Technology Roadmap is the ultimate business asset, as it provides a single-pane-of-glass view into all aspects of technology within an organization. In doing so, it measures system performance, diagnoses any issues, tracks the life cycles of your hardware, and reports on current and future projects. All of these components combine to create a powerful tool to create accurate, predictable budgets, while eliminating surprise expenses.
RELATED: How a Virtual CIO (VCIO) Can Help DC Small Businesses Budget Better
Trent, our VP of Technology, recently explained the contrast between this and the break/fix IT approach, which many SMBs still use. Since break/fix IT providers only make money when systems fail or have issues, they're not incentivized to create a stable, efficient IT environment.
While a break/fix provider may seem cheaper since they don't have a monthly fee, they could actually end up costing your business far more in the long run, due to lack of strategic technology direction and poorly maintained systems that can (and will) fail at a moment's notice. Hardware is expensive, and so is unplanned downtime. When it comes to finances, SMBs have far less margin for error than larger enterprises might, so the predictable, accurate budgets provided by VCIO services are essential.
RELATED: The Real Cost of System Downtime
2. Decreased operating costs and improved productivity
VCIOs also have the ability to help you cut operating costs throughout your enterprise without hindering operations. To hire an on-staff CIO in the DC metro area, you need a six figure budget just to cover salary, then add benefits, bonuses, IT staff to execute your CIO's strategic plans, and actual IT expenses. With a VCIO, you spend a fraction of that money, and still get an entire team of technology experts on call whenever you need them.
That gives you the ability to invest more on keeping your business running on efficient up-to-date technology, and less on staffing. Having a VCIO lets you focus on running your business, while your VCIO focuses on making sure your technology is performing at its best.
3. Regularly reports findings and recommendations, with costs, to be considered for budget inclusion.
Another great advantage of having a team of technology gurus on your side is consultative and advisory conversations. Not only do you have the ability to ask if a potential technology investment is right for your business but VCIOs are constantly learning and advising what works best with your business' goals. This creates a two way conversation that will only enhance your enterprise's efficiency without making unnecessary investments.
4. Ensures security, including business continuity, disaster recovery, and compliance.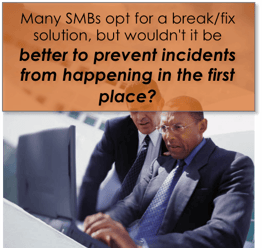 Many businesses opt for a break/fix solution, but wouldn't it be better to prevent incidents from happening? How about ensuring that sensitive files or information never fall on the hands of cyber-attackers? A VCIO is always vigilant and constantly working on the security of your business.
Through creating security policies and implementing the right patches and updates in a timely manner to prevent vulnerabilities, your VCIO team guards your business so that you have peace of mind.
Additionally, your VCIO can offer advice tailored to your specific business needs. Issues such as regulatory compliance, business continuity, security standards, and availability resonate differently based on the industry a given business is in. Since VCIO services entails an entire team of experts, it provides you with individuals who have skills and experience directly related to your industry. That means a VCIO team is inherently better positioned to properly advise your business on such issues than a traditional IT provider.
5. Finds ways to make technology contribute to the bottom line.
As I mentioned earlier, a VCIO will understand your SMB's core goals and contribute to meet those goals. Through creating efficiencies, business process optimization, and strategic technology direction, VCIO services reduce overall costs and drive revenue. You get all the benefits of a CIO for less than half the cost, plus an entire team of experts backing your business to ensure that your visions become a realization.
---
Regular VCIO consultations — including a comprehensive Technology Roadmap update — should be performed on a regular basis in order to keep up with changing business goals and needs. At Meridian, we typically offer them quarterly, as part of a complete Managed Technology Services package, which can be customized to fit specific client needs.