When you venture out onto the Internet, it's easy to get tangled up in the vast web of threats lurking on many website pages, often without even realizing it. Plus, today's threats are constantly evolving, usually much faster than we (the general population of law-abiding citizens) learn about them. Some of them are readily apparent, but others are well hidden, and getting sneakier each day.
Read on to learn more about each of these top browser threats and how to avoid them:
Malvertising
Social Media Scams
Web-Based Exploits
PLUS Best Practices for Secure Web Browsing
Malvertising
A form of malicious code that distributes malware through online advertising — can be hidden within an ad, embedded on a website page, or bundled with software downloads. This type of threat can be displayed on any website, even those considered the most trustworthy.
According to security firm RiskIQ, malvertising increased by 260% in the first half of 2015 compared to the same time frame in 2014.
Social Media Scams
End users also need to beware of social media scams. Hackers have created a playground of virtual obstacles across all the major social media sites.
Today, Facebook has over 1.4 billion members — more people than the populous nation on Earth — and, like any large population base, there are people on Facebook who are trying to get away with a variety of scams. From fake apps to fake like buttons and more, cyberattacks are emerging on social networks at an alarming rate. The Federal Bureau of Investigation (FBI) even has a webpage devoted to the subject. It's a recommended read for any individual or small business owner with a social media presence.
RELATED: 5 WAYS HACKERS USE SOCIAL MEDIA FOR CYBER ATTACKS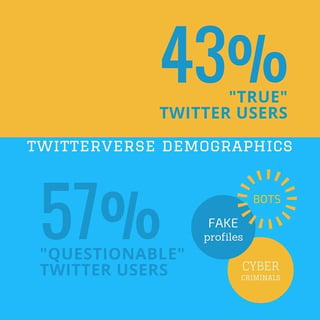 According to an article in The Huffington Post, some of the most common Facebook hacks and attacks include click-jacking, phishing schemes, fake pages, rogue applications and the infamous and persistent Koobface worm, which gives attackers control of the victim's machine while replicating the attack to everyone on their Facebook contact list.
Twitter isn't immune to security issues, either. Since the microblogging site is both a social network and a search engine, it poses some extra problems. According to CNET News, just 43 percent of Twitter users could be classified as "true" users compared to the other 57 percent, which fell into a bucket of "questionable" users. Among the things to watch for on Twitter are direct messages that lead to phishing scams and shortened URLs that hide malicious intentions.
RELATED: (ANTI)SOCIAL ENGINEERING – THE HACKER'S SIMPLEST WEAPON
Web-Based Exploits
As for Web-based exploits, Internet websites are now the most commonly-used angles of attack, most often targeting software vulnerabilities or using exploits on the receiving client. This makes keeping up-to-date browsers and applications paramount for all employees. Make time for those updates, even if they seem annoying, and protect yourself from hackers looking for easy prey.
RELATED: END OF SUPPORT FOR INTERNET EXPLORER: WHAT YOU NEED TO KNOW
Website Browsing Best Practices for Employees
Be conservative with online downloads.
Beware antivirus scams.
Interact only with well-known, reputable sites
Confirm each site is the genuine site, and not a fraudulent version of the site you meant to visit.
Determine if the site utilizes SSL (Secure Sockets Layer), a security technology for establishing encrypted links between Web servers and browsers.
Don't click links in emails — go to sites directly.
Use social media best practices.
Last, but certainly not least, use common sense!!