Meridian is proud to announce that Konica Minolta Business Solutions U.S.A., Inc. (Konica Minolta), Meridian's parent company, has claimed the coveted BLI 2021 A3 Line of the Year Award from Keypoint Intelligence. All 12 of Konica Minolta's A3 multifunctional printers (MFPs) tested in 2020 were distinguished as highly recommended and highly reliable, with 10 earning BLI Winter 2021 Pick Awards in their respective segments. These include black and white MFPs such as Konica Minolta bizhub 300i, and color MFPs such as Konica Minolta bizhub C250i.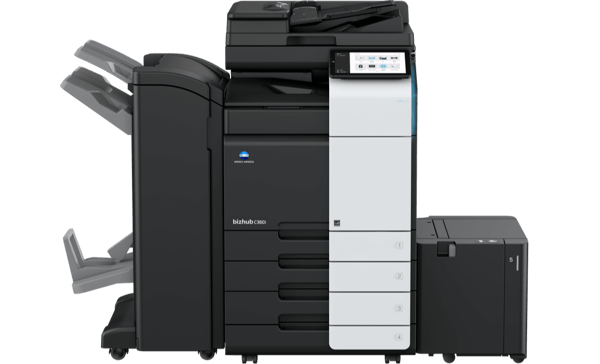 This is not the first prestigious award to be bestowed upon Konica Minolta's bizhub MFPs. The A3 line of MFPs was also recognized for the 2020-2021 Buyers Lab (BLI) PaceSetter award for Ease of Use: Enterprise Devices from Keypoint Intelligence.
Presented by Keypoint intelligence, the world's leading independent evaluator for document imaging, software, hardware, and services, the Line of the Year Awards salute managed service providers that offer a broad range of hardware or software and whose products consistently perform above average throughout testing. George Mikolay Keypoint Intelligence's Associate Director of A3 Hardware/Production had this to say about Meridian's Konica Minolta A3 line of MFPs:
"Konica Minolta has skillfully crafted an A3 portfolio that is extremely reliable and easy to use, from top to bottom. Konica Minolta has done a masterful job of incorporating the software solutions, along with the apps and onboard tools, that are necessary for this day and age to bring a level of personalization to their line for every user, wherever they are."
With this most recent award, Meridian's Konica Minolta is recognized and praised for its meticulous focus on understanding customers' needs in order to develop tailored solutions to mitigate print environment friction and improve user experience.
Improving User Experience through Advanced Technology and Innovative Functionality
Defined by their exceptional reliability, ease of use, and value-added software solutions, Meridian's Konica Minolta bizhub MFPs provide organizations an easy solution for simplifying their print environment. Here is a breakdown of some of the benefits that come with deploying a Konica Minolta bizhub MFP into your print environment.
Exceptional Reliability
Losing money due to printer malfunctions and maintenance is an expense businesses can't afford. A printer that can consistently deliver with minimal to no downtime shouldn't be a luxury. At Meridian, this is the standard.
Keystone Intelligence tested Konica Minolta bizhub A3 MFPs and found that after running nearly 1.5 million impressions, the machine only experienced six misfeeds. That is an astounding rate of just one misfeed for every 246,666 impressions.
In terms of maintenance, which is rarely needed, procedures are as simple as loading paper, replacing toner and drums, and clearing misfeeds. Maximum uptime is further complemented by a higher than average maximum paper capacity which contributes to a reduction in time spent reloading papers for longer print jobs. Combining all of these statistics provides a window into the exceptional reliability and efficiency of Konica Minolta bizhub A3 MFPs.
Ease of Use
Easy-to-use MFPs are becoming invaluable due to the need for organizations to accommodate a variety of different users. Konica Minolta and Meridian adhere to a customer-centric approach to promote ease of use to ensure organizations are able to maximize the benefits of their new print infrastructure. One feature of Konica Minolta bizhub MFPs that highlight their user-first mindset is the capability to configure and customize the display to an end-user's individual print needs and preferences.
With unprecedented attention to user experience, the bizhub i-Series includes functionality for creating, optimizing, and personalizing a user interface (UI) instantly on any device around the world. The intuitive design offers customers a frictionless user experience that is accessible. Throughout the line of Konica Minolta bizhub A3 MFPs, end-users have excellent ease of use from both a walk-up and a workstation perspective, allowing them to consistently optimize their Konica Minolta experience. This inherent intimacy decreases training time, promotes seamless integration into office environments, and ensures an uninterrupted workflow for maximum productivity.
Value-Added Software Solutions
In order to adjust to today's growing digital landscape, businesses need quality hardware and supplementary strong value-added software in the form of apps and related onboarding tools to raise productivity.
Konica Minolta and Meridian continue to uphold their pledge to the user experience through an extensive array of software solutions, as well as apps and onboard tools that significantly enhance personalization, productivity, and workflows. Here are a few value-added software solutions end-users can leverage to simplify and streamline print workflows.
MarketPlace - Konica Minolta's proprietary consumer-friendly software for apps comes preinstalled on all new devices. This software solution allows end-users to access and easily download cloud offerings such as Box, Dropbox, Google Drive, Google Mail, Microsoft OneDrive, and more directly on the UI panel.
Follow-You-Persona - This feature enables customization of the MFP panel from any MFP regardless of location. End-users can configure the interface using the apps, tools, and tiles they use most frequently.
How2 App - This value-added app allows end-users to access online instructions directly from the MFP.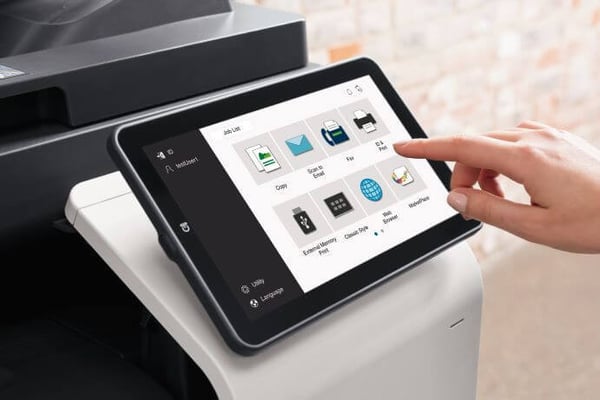 A Commitment to Printer Excellence: Personalized and Simplified
Meridian's Konica Minolta is honored to receive this award as it recognizes our continued commitment to providing a superior user experience through innovative technology and easy to use customization.
Strategically partnering with an expert print specialist that can supply your business with reliable, easy to use hardware that is backed by value-added software solutions provides end-users a frictionless user experience and a simplified print environment.