The Local Office Technology Company's 2nd Annual "Spring Into Summer" Clothing Drive Benefits Local Charity Organization, Women Giving Back
Alexandria, VA (September 22, 2016) – Meridian Imaging Solutions (Meridian) recently concluded an overwhelmingly successful clothing drive to benefit one of its community outreach partners, Women Giving Back (WGB), a non-profit organization that provides professional clothing to individuals in the Northern Virginia community. WGB, a HomeAid Northern Virginia program, will use the donations contributed by the Meridian employee community to help local disadvantaged women and children fully and confidently participate in work and school.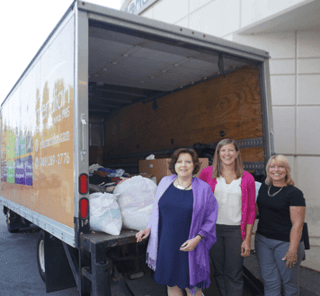 Doing Good, Feels Good. Meridian Personnel pictured above (left to right: Beth Hayes, Senior Director of HR; Kerry Gritzner, HR Intern; Diane Miller, AR/AP Staff) with a Meridian delivery truck full of items collected during the company's 2nd Annual Spring into Summer Clothing Drive, benefiting WGB.

Organized by Meridian's Community Outreach Committee, individuals from all areas of the company contributed to the charitable initiative's success, making an impact on the local NoVA community.
In partnership with WGB, Meridian's Community Outreach Committee organized the "Spring into Summer" clothing drive for a second consecutive year, and promoted it to the Meridian community, engaging numerous individuals representing all departments, levels and functions of the company.
Bright promotional signage and colorfully decorated collection boxes for the donation drive were placed prominently in Meridian's Alexandria, VA headquarters location from June through the end of the summer, and donations were sorted, organized and delivered to WGB in September.
The company also donated resources from its logistics department for the clothing drive by packing a Meridian delivery truck full of the donations and transporting the collected items—including blouses, skirts, pants, jackets, suits, coats, shoes, unopened makeup, and more—from Meridian HQ in Alexandria, VA to the WGB facility in Sterling, VA.
Emilia Philip of WGB expressed her satisfaction and gratitude, stating:
"On behalf of WGB, we cannot thank you enough for the amazing clothes drive you created for WGB. We are blown away with your thoughtfulness, hard work and time. Your partnership is truly a blessing and we are forever grateful to everyone that participated. With your amazing support we will be able to change more lives than ever before. Thank you for making a difference!"
The feelings of appreciation are mutual between WGB and the local technology company, as Tami Hayden—a Sales Team Coordinator and member of Meridian's volunteer Community Outreach Committee—who helped spearhead the donation drive explained, "making a difference, no matter how big or small, definitely feels good."
On the heels of the successful WGB clothing drive, Meridian has numerous upcoming community initiatives and business events, including:
Donating, cooking and serving dinner at The Carpenter's Shelter in Alexandria, VA on September 30
Producing a calendar featuring the pets of Meridian employees to benefit the DC/MD/VA ALS Association
Attending the American Small Business Cybersecurity Xchange Conference as a Gold Sponsor on October 4 in Silver Spring, MD
Exhibiting at the Interagency Visual Media Group (IVMG) forum for Intelligence Community (IC) media professionals on October 11 at the National Geospatial Intelligence Agency (NGA) in Springfield, VA
Hosting Meridian's Annual Technology Open House on October 19 at its Alexandria, VA headquarters
For more information about Meridian's Community Outreach Committee and community service initiatives, click here or email the outreach team. For more info about upcoming events that Meridian is sponsoring, attending and/or hosting, click here.
About Meridian's Annual Technology Open House
Meridian's Annual Technology Open House will take place on Wednesday, October 19th, 2016 at Meridian's Headquarters, 5775 General Washington Drive, Alexandria, VA 22312. A great opportunity to network with peers and other local professionals from all industries and functions, the event will be open all day, from 9:00 am until 6:00 pm, and guests are welcome to stop by any time during event hours at their convenience to enjoy the sports-themed event's catered food, beverages, tailgate games and activities, and more.
Featuring innovative cloud, security, mobility, workflow and office automation concepts and demonstrations, subject matter experts will be available to discuss in detail these and more topics. Attendees will also be eligible for giveaways and prize drawings, valued at more than $25,000 total.
For more information, please visit: http://ymeridian.com/openhouse.
About Meridian
Established in 1985, Meridian is a leading provider of managed IT services and document solutions to a diverse client base throughout the DC metro area. Experts at integrating office technologies, the company's motto, Meridian Means Service, reflects its mission to help clients get the most out of technology by combining great customer service with cutting-edge hardware and software. Serving all industries and on the GSA schedule, Meridian is a wholly-owned subsidiary of Konica Minolta Business Solutions, headquartered and managed in Alexandria, VA. Meridian has developed a national reputation for service excellence and is regularly recognized in publications such as the Washington Business Journal, SmartCEO, and Inc. magazines.
For more information, please visit: www.whymeridian.com, and connect with Meridian to continue the conversation on LinkedIn, Facebook, Twitter @meridiantweets and Instagram.
Meridian Media Contact:
Meridian Imaging Solutions
Email: mismarketing@whymeridian.com
Phone: (703) 461-8195
About Women Giving Back
Women Giving Back's (WGB) mission is to support women and children in crisis, and build their confidence and self-esteem, by providing great quality clothing at no cost, assisted by caring and committed volunteers who offer personalized service and interaction. Founded in 2007, the organization supplements HomeAid Northern Virginia, helping transitionally homeless women and children get on their feet with clothes to help them enter the workplace.
For more information, please visit: http://womengivingback.org/.