In my last blog post, Why Your Association Should Build A Technology Road Map, I discussed four key aspects to consider before developing a technology plan for your association: people, devices, applications, and data.
This article will go into greater detail on the actual process of building an ideal technology strategy that suits all of your association's needs. When building a technology strategy, the best place to start is always with a comprehensive IT assessment — ideally one performed by an objective third party, such as a Managed Services Provider (MSP).
Read on for more info about:
Why this is so critical for your association
How and where to get started assessing your existing IT landscape
Necessary steps to take during the strategic planning process
Simple ideas for goals
How to align assessment results with goals
Why is a technology road map so important for associations?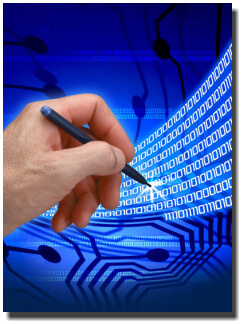 A technology plan is an essential part of your association's strategic planning. When executed correctly, a well laid out plan provides insight into your organization, while allowing you to find ways to strengthen and improve the way your association functions, fulfills its mission, and serves its members.
An organized technology road map can open up new avenues to help your association to acquire the technology you need and serve your community better and faster. For example, there may be partnership opportunities, ways to integrate your AMS with other relevant applications, and special contract vehicles offering special pricing deals that you could take advantage of.
RELATED: How Non-Profits Can Lower Costs Through a Cooperative Purchasing Program
Without a documented plan, however, where would you even start in exploring options such as those listed above? How would you prioritize technology projects and initiatives to keep your systems performing at their best, rather than risking downtime that could frustrate members and hamper your mission?
Where do you start?
The first thing one should do is conduct a technology inventory. Consider all the tools that your small business currently has to work with and whether you own or lease each component. Desktops, laptops, servers, switches, mobile devices, printers, copiers, cloud storage, and more.
It is then necessary to perform some sort of strengths and weaknesses evaluation for your devices. This is where a workflow assessment would come in handy. This reveals the total current costs of each service studied, the area of opportunity for improved efficiency, measures and analyses of end-user needs and perceptions, and preliminary recommendations for your association and device fleet.
RELATED: [ Free Download for Associations & Non-Profits ] DIY Print Assessment Template
These inventories and assessments will also help identify threats to your association, which is useful information in terms of security options to be adapted in your developing technology plan. Many MSPs even offer a network report card so you can see exactly how your systems and vulnerabilities stack up against industry standards and benchmarks.
Next, it is important to align your most important business goals with the right technology assets. Based on your workflow assessment and analysis, you can identify your top goals for the coming year. Then, figure out the best way to measure these goals and develop sufficient and effective strategies to achieve them.
RELATED: Best Practices for Secure, Responsible Disposal of Computers & Devices
Simple goals to identify can include:
Improving strengths or addressing a newly found weakness
Remove one or more threats; patch vulnerabilities
Attack a new opportunity found through your assessment processes
Implement a new regiment for regular system updates and maintenance
Plan a project to upgrade or replace antiquated devices that could be slowing down your staff's productivity
Measure usage and adoption of tools you already have and take steps (like training sessions or internal marketing) to generate more ROI for existing investments
Performing one or even all of these actions would be ideal and totally doable for your association.
Align Assessment Results with Goals
After listing a few goals, look back to the inventory of devices you took earlier and look at it alongside your workflow assessment results. Decide which types of technology components will help you best achieve these new goals. Think of tools your association can realistically adopt, and make sure they fit in to your association's overall business plan.
Keeping your finished assessment close by, it may become clear that you already own the resources necessary to help you reach your identified goals. Or you may own the tools that are working against your goals. With an investigative look at your devices and current technology, you can adjust your organization's budget, funds, time and man power in the most logical way that furthers your association's main goals and priorities.
Understanding your association's use of devices and technology is the first and biggest step in developing a comprehensive technology plan for your organization.
Once you can see what technology is being used and what technology is costing or negatively impacting your association, you can use that information to decide what software and hardware can be dropped as opposed to what hardware and software can use more time and money in order to advance your business.
With today's rapidly evolving technology, it's important your association uses its resources to their maximum potential. The sooner your association starts this strategic planning, the sooner you can save on costs, achieve association goals, and successfully carry out your association's mission. Stop stalling, start planning today!