I have a thing for multifunction printers (MFPs). I think they are uber cool. And that is good, because like most office workers, I don't have a personal desktop printer in my cubicle. I send my print jobs to any one of several MFPs strategically located throughout the office, and most of the time when I get to the printer my copies are waiting for me in the output tray. The other day they weren't, so after I fixed the paper jam I ordered the job again, and inadvertently printed a 12-page document twice. A waste of time, toner, and paper that could have been avoided had I used a locked print solution. So it got me thinking about the benefits of pull printing, in addition to the environmental factor—things like enhanced security and compliance, cost reduction, and improved productivity.
Pull printing, or locked printing, simply requires the user to be physically present at the MFP to release his or her document. The most common way to do this is with a card swipe reader or with a personal identification number (PIN), or user codes. Most original equipment manufacturers (OEM) offer a pin release option and up to a certain number of user codes on their MFPs. There are also a number of software options that are compatible with MFPs that enable pull printing via card swipe, LDAP and Active Directory authentication, and more. A print assessment is the best way to determine the right pull print solution for your enterprise whether it is small, medium, or large. (Click here to get a free print assessment!)
Security and Compliance
Believe or not, most enterprise data leaks and thefts are inside jobs, not from outside hackers. One of the most vulnerable points in any network security plan is the centralized, multi-user MFP. Pull printing makes confidential printing possible on shared printers. By holding the print job in a queue until the user arrives at the selected printer and prints it, the document is shielded from prying eyes. This secure release printing helps enterprises meet compliance requirements, which have increased greatly over the years. A more advanced secure pull print solution can record valuable data such as who ordered the print job, how it was formatted, and when it was printed, along with enabling rules-based printing.
Cost Control and Reduction
Unintended prints, never retrieved copies, and extra copies mistakenly ordered have become so common that many office printers have a recycle bin sitting next to them. Additionally, pull print solutions can set user permission criteria that determines finishing options. This allows for company control of such features as full color, stapling, or heavy paper stock, which may impact a business's bottom line. Settings can even be defined for individual users, departments, or by application.
Better Productivity
Multiple trips to the MFP can be dramatically reduced. Constantly rushing to the printer to pick up a document before someone else does—or even worse—getting there only to find your document missing or the printer jammed can be eliminated with pull printing. A user can simply send their documents to the print queue whenever they wish, where the jobs are held until the user authenticates at the device. Then, at the press of a button, they can view and release one, a few, or all of their print jobs at their convenience (perhaps while returning from lunch or at the end of the workday). Plus, if a particular MFP is in need of maintenance, users can simply authenticate and release jobs at a different network MFP.
And Don't Forget Green
The average office worker uses an estimated 10,000 sheets of paper per year. That's a lot of trees. Granted, your office's carbon footprint entails more than just the MFP and paper use, but every little bit helps. Pull printing tracks usage to the individual and/or department thereby encouraging users to be more responsible and cost conscious. Redundant print jobs can be greatly reduced. Pull print solutions can be configured to hold print jobs in the queue for any amount of time, after which they "expire" and are deleted—we often recommend that jobs expire after 8 business hours. This is a security feature as well, because the document is no longer in the server.
One example of the environmental impact that pull printing can have is exemplified by one of our largest clients, a local county government with 500 multifunctional printers and 10,000 end users. The pie chart below shows the reduction in unnecessary printing that they experienced in the first year of using a pull print solution. Although a 13% reduction in printing may sound low, it equated to 1,371,635 fewer pages being printed in comparison with the previous year, before using pull printing.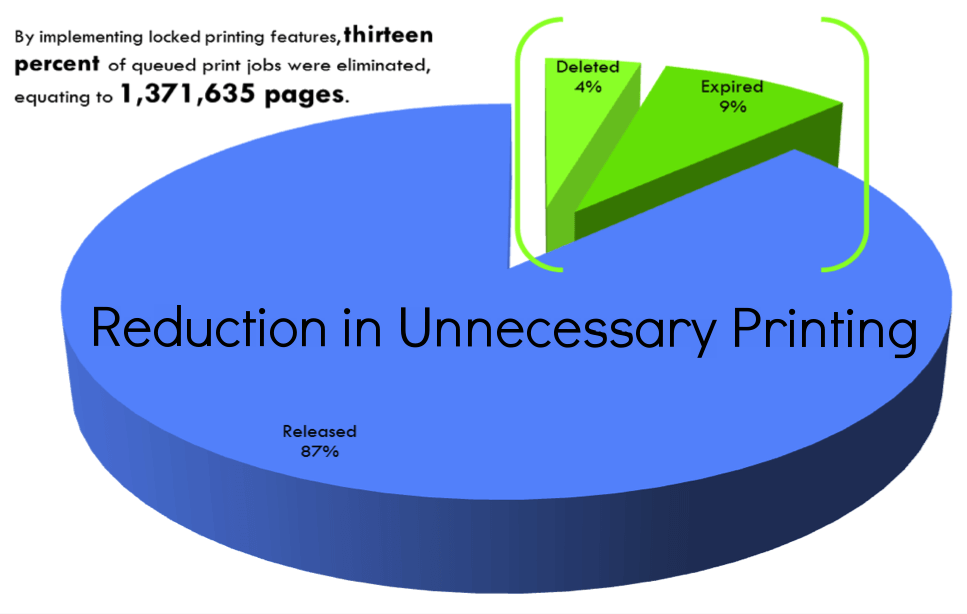 These are just a few of the general benefits of pull/lock printing. Consult with a MPS provider to determine how pull printing can specifically help your enterprise save money, be more productive, and get greener.