It's critical that associations, non-profit organizations and businesses, alike, proactively document and maintain a comprehensive, technology strategy, or as we like to call it, a technology roadmap.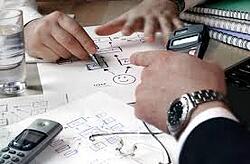 With new desktop, mobile, virtual and BYOD integrations, technology has the potential to be one of the most important allies an organization could have. But, if you don't have a clear plan or strategy for the future, technology could actually become a barrier to your organization's growth.
Your technology roadmap must incorporate your:
People
Devices
Applications
Data
Read on to learn more about why it's so critical for your association to have a technology roadmap, how often you should update it, and why it must include each of the four components listed above.
Today, it's amazing how quickly radically more complex business environments continue to evolve and challenge organizations of all sizes and kinds to deliver higher levels of value, agility, and employee satisfaction, while reducing overall cost of IT services. To ensure your organization keeps pace with these constant changes, the head IT and operations leaders of your association must develop a comprehensive technology roadmap.
When constructing your non-profit organization's technology roadmap, you must consider solutions for seamlessly managing people, devices, applications and data. Your people and processes must be completely in sync in order to ensure smooth transitions as technology evolves. Partnering with a company that has expertise in analyzing, integrating and streamlining technology and processes can give you an objective and holistic view of your needs that isn't possible for your internal stakeholders to achieve.
How often should you work on your technology roadmap?
It's vital you remember that developing your technology roadmap is an ongoing process. Your documented IT strategy must directly relate to your association's mission and organizational goals, while identifying the right combination of technology solutions, processes and strategies to fit your budget and meet those goals.
Since the future of your organization is rarely predictable or clear, we advise that you review your roadmap every six months, or at very least annually. That way, you can update it and make any changes necessary to accommodate shifting goals or processes, as well as new technology developments and disruptions. Constantly reviewing and updating may seem tedious and inconvenient at times, but trust that consistent evaluation and feedback from employees, IT, management and clients will result in the most efficient and flexible plan that adapts to constantly changing technology.
RELATED: How a Virtual CIO (VCIO) Can Help You Budget Better
Reasons why these four elements are important aspects of a technology roadmap that you cannot afford to overlook:
1. People
The reason many technology strategies fall through is because businesses mistakenly focus on just the technological components of their organization. However, workforce computing strategies are meant to allow employees to work as they wish, anytime and anywhere, with the best means that meet their working needs. Recognize that solutions must be found that work for the people who help keep your association up and running, not just the technology that they are trying to manage.
RELATED: Is Your Office Technology Provider a Business Partner, or Just a Vendor?
2. Devices
If your organization must invest heavily in one thing, it should be a total, flexible and scalable solution that supports the increasing diversity of all devices and platforms. Monitoring and securing devices across a broad environment of operating systems is becoming a prevalent challenge for organizations because of trends like BYOD, and the need to integrate both physical and virtual platforms.
A successful roadmap must include solutions that allow IT to proactively support these multiple platform and device types, while implementing management, security and helpdesk policies that extend to both corporate and employee owned devices.
3. Applications
With the increasing need for data to be available anywhere and anytime, applications with mobile compatibility are becoming necessary for employees and clients to access data and resources. There is a critical need to distribute, secure and manage applications, and your technology roadmap should account for this.
Furthermore, applications must be regularly updated and patched to avoid security vulnerabilities. Assuming that every single employee is willing and able to successfully implement updates and patches could be a fatal mistake. So, your strategy should clearly document the schedules and expectations related to critical patches, updates, and especially software and hardware upgrade schedules.
Leveraging the cloud and Software as a Service (SaaS) can help reduce the number and complexity of necessary updates, upgrades and patches that your organization is responsible for. However, it's still critical to analyze the ways in which your applications interact with your data, people and other applications. For example, if your customer relationship management (CRM), customer service, marketing automation and accounting applications don't play nice together, you could land yourself in some hot water...or at least create unnecessary, inefficient manual processes and information silos.
Application management capabilities that are important for any successful strategy include:
1. Application monitoring
2. Functionality
3. Updates and Patches
4. Remote management and wiping capabilities
5. Self-service portals for applications on devices (when applicable)
RELATED: Is Your Office Technology Provider a Business Partner, or Just a Vendor?
4. Data
Because of the nature of today's multi-device world, it is the responsibility of IT and operations leaders to make sure data and business intelligence can be spread across a broad spectrum of integrated devices and platforms. Employees must be allowed to roam across devices with secure and uninterrupted data access.
Cloud-based solutions can be an important aspect of your non-profit or association technology strategy, and must be taken into consideration so you can keep your organization's data as secure as possible while also allowing employees the most mobility possible.
Big data is a popular buzzword today, especially among the major corporations that have spent over a decade perfecting the ways that they collect, analyze and leverage big data to show you relevant ads, predict your buying behaviors and more — think Google and Amazon, for example. The exciting news is that, now, even associations and non-profit organizations can leverage big data to further their missions and better serve their members.
In addition to making access to data easy and secure for users, it's critical to consider data loss prevention and backup and disaster recovery planning. What would happen if a natural disaster struck your office? How long would it take to recover your data and resume operations, and what would that involve? Don't even get me started on how much that downtime could cost you. Consult with experts to ensure you've got all the bases covered when it comes to protecting your data — from selecting the appropriate type(s) of data backups, to planning and executing the best backup method(s) for your needs and budget, and everything in between.
These are the four aspects that must be considered to create a successful comprehensive technology roadmap. For more information about why integrating people, devices, applications, and data is so important to the health of your organization.
If you want to learn more about how your association can construct the most effective and fitting technology plan, click here check out this post, or request an IT Assessment to start the process of building your technology roadmap.