Large enterprises have been utilizing server virtualization for about 10 years, and the benefits of this technology are now available to smaller businesses, too.
Server virtualization creates "virtual environments" that allow multiple applications of server workloads to run on one computer. This flexible method of computing has many benefits to offer, especially for small to mid-sized businesses.
Here are the top 5 ways SMBs can benefit from server virtualization:
The Benefits can be Greater the Smaller the Enterprise
Maximum Server Utilization
Better Disaster Recovery Capabilities
Smoother Business Continuity
Enhance Security
Read on to learn more about each of these top 5 virtualization benefits for SMBs.
The basic concept of virtualization originated in the 1960s when large mainframe computers and "dumb terminals" were the extent of the enterprise technology scene. Back then, inexpensive client-server networks with multitasking servers and personal computer (PC) workstations were just a dream. Computer operators used key punches and submitted batch jobs to the mainframe for processing. Early virtualization took the form of time-sharing on mainframe servers, and eventually culminated in the development of operating systems which enabled multiple users to access the same mainframe simultaneously.
A hypervisor, also known as a virtual machine manager (VMM), is software created to manage memory sharing in the mainframe. This allows multiple "guest" operating systems to run concurrently on a single host computer. This technology was previously more expensive and therefore mostly available to large businesses, but it is now within reach of many small-to-midsized businesses (SMBs). Without further ado, here are the five key things to know about SMBs and virtualization.
1. The smaller the business, the greater the potential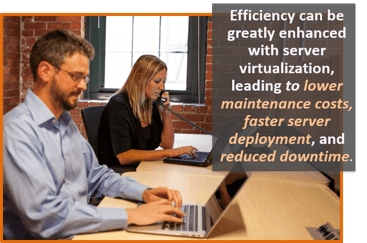 Efficiency can be greatly enhanced with server virtualization, leading to lower costs related to maintenance, faster deployment for servers, and reduced downtime.
In addition to hardware energy and cooling costs savings, SMBs can reduce capital expenses because fewer servers need to be purchased to replace aging machines as they are retired.
RELATED: 5 Benefits of Hardware-as-a-Service (HaaS)
However, it is a good idea for an SMB to consult with a trusted managed services partner (MSP) before undertaking any virtualization project to avoid unanticipated deployment costs. Get clear guidance about all of your options, the costs of project development, shared storage costs, and hardware performance requirements.
2. Maximum Server Utilization
Most servers that are running only one workload are greatly underutilized in the modern enterprise environment. Consolidating old servers into newer systems with virtualization technology can squeeze the maximum amount of work and efficiency out of any server for a fraction of the cost of physically upgrading to newer hardware.
An added benefit is that with virtualization there is no need for additional office space, power supply, or cooling structures.
3. Better Disaster Recovery Capabilities
The ability to return conditions back to a state of normalcy after a disaster is critical for any enterprise, perhaps even more so for an SMB than a large organization. Backing up a virtualized environment with copies of VMM files is much easier than doing the same task physically with different hardware servers. A VMM backup can help an SMB quickly get back to operating speed after a catastrophic hardware failure.
RELATED: Be Prepared: Avoid Data Disasters with Backup and Disaster Recovery Planning
Because it takes just a fraction of the original hardware to host an entire infrastructure virtually, an SMB can better afford to house smaller backup servers at alternative locations.
4. Smoother Business Continuity
A disruption in business operations can be much more costly to a small business than to a large enterprise. Because hardware failure is one of the most common reasons for business operations disruption, a server virtualization feature called "live migration" can greatly reduce or eliminate downtime.
RELATED: 5 Data Backup Method Options for Business Continuity Plans
With live migration, network administrators can seamlessly move VMMs between physical servers without having to power them down. This can be utilized not only during physical disasters but also with server maintenance and hardware upgrading eliminating yet another cause of downtime.
5. Enhance Security
Cyber-attacks targeting web browsers are increasingly putting enterprise data at risk. With VMM, enterprise web browsing activities can be limited to a virtual environment without access to sensitive files. Should a hacker break through the web browser, a VMM will be able to more easily erase and malware or modified files. VMM also makes testing new software updates and/or security patches prior to their system deployment much easier.
RELATED: Top 3 Web Browser Security Threats
The bottom line is simplicity, not complexity. The right VMM solution for your SMB can greatly streamline and simplify your business environment.