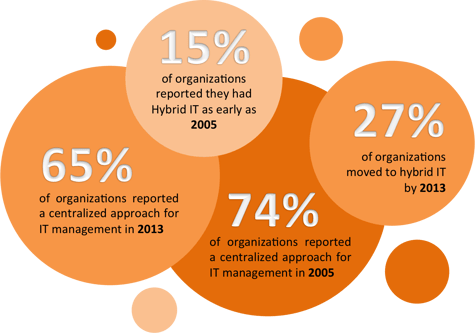 Hybrid IT isn't just a growing trend — it's a complete shift in the way that we view IT, it's here to stay, and it can help your business succeed.
According to an IT trends study by The Society for Information Management (SIM), 27% of organizations had moved to a hybrid approach to IT organization and management by 2013 — a steady increase from the 15% of organizations who reported that they had hybrid IT in 2005.
Meanwhile, there is a steady decrease in centralized IT, from 74% of organizations having centralized IT in 2005, to 65% of organizations reporting a centralized approach for IT management in 2013.
So what is Hybrid IT?
Put simply, Hybrid IT refers to an environment where elements of the IT infrastructure and applications are administered or maintained through multiple sources. This method of combining internal and external IT services is revolutionizing the roles of IT, but it is not necessarily brand new.
Read on for info on how businesses are already using Hybrid IT, as well as these top 3 reasons DC businesses should adopt it:
Need to maintain control of data
Benefits of having the right resources, when you need them and at a lower cost
Desire for IT departments to respond quickly to changing business needs
An old concept, with new applications
Outsourcing parts of IT and business processes is certainly not a novel concept. You may already be using a hybrid model without even realizing it. For instance, your business has likely been outsourcing your payroll processing for years.
As Gordon Haff states in his article, Why IT Went Hybrid (And Why It Matters), "it's probably impossible to do everything in-house — and it's certainly not economically sensible." So, as more and more components of IT and business processes are outsourced, hybrid IT continues to evolve.
An example of the evolution of Hybrid IT can be seen through the movement toward cloud computing. This movement has driven many software companies to change their business models and offer Software-as-a-Service (SaaS), which provides many new benefits to users, including lower upfront costs and increased security. SaaS is a hybrid model that reduces the burden on internal IT departments, as providers take responsibility for deploying, patching, and otherwise maintaining the applications.
RELATED: Software-as-a-Service (SaaS)
So why should you adopt Hybrid IT?
According to Tech Target, three major factors drive the adoption of Hybrid IT:
1. The need to maintain control of your data
It's no secret that actionable data is one of the most important assets that any organization has. In order to maintain a competitive edge, you must keep your sensitive data secure, so it makes sense that organizations want to maintain control of that data.
However, the numerous benefits of IT outsourcing and cloud computing are still attractive to these organizations. Hybrid IT gives organizations the best of both worlds, by allowing them to maintain control of their data, while still reaping many of the benefits of outsourced IT and cloud computing.
RELATED: 5 Cloud Security Tips for SMBs
2. The benefits of having the right resources, when you need them and at a lower cost
One of the most attractive aspects of IT outsourcing and cloud computing is their cost-effective nature. IT outsourcing is cost-effective for a few reasons. First, an all-inclusive, flat-rate managed services model eliminates unpredictable IT bills that can fluctuate from month to month, based on the number of hours the IT provider is able to bill.
Secondly, some managed services providers (MSPs) offer Virtual CIO (VCIO) consulting services. Your VCIO can help you create a long-term technology plan, or "roadmap," to plan for future IT expenses and choose the best technologies to help you achieve your goals. This means no more playing a guessing game when you need to purchase software, computers, printers, tablets, or any other devices. Your VCIO will make sure you choose the most appropriate and cost-effective items for your specific needs, based on the findings from a thorough assessment of your technology environment and business processes.
RELATED: Top 5 Ways VCIO Services Benefit DC SMBs
Finally, C level executives and IT leaders are under constant pressure to do more with less. Staffing individuals to specialize in every aspect of technology that your business uses would be extremely costly, especially for small- to mid-sized businesses. You might need a Microsoft certified engineer, a Cisco certified engineer, security specialists, and so on. However, you would not necessarily need these specialized skills on a daily or even weekly basis. A Hybrid IT model would allow you to access these specialized resources on an as-needed basis.
RELATED: Managed Services Can Help Bridge IT Skills Gap for SMBs in the DC metro area
3. The desire for IT departments to respond quickly to changing business needs
The way that organizations look at internal IT is changing. As technology advances, keeping up with it is essential. By finding innovative ways to use technology, IT departments are able to utilize it as a catalyst to create new and sustainable growth. However, this requires IT to take on a more strategic role than it has in the past.
RELATED: Innovation Drives Business Value in a Changing IT Climate


A Hybrid IT model relieves IT departments from many of the operational strains of traditional IT, such as helpdesk calls, maintaining software, managing fleets of multifunctional devices and printers; and more.
Under a Hybrid IT model, many of these time-consuming tasks can be outsourced, freeing up the internal IT department's time so that they can focus on projects that drive business value and further their organization's mission.
RELATED: 3 Immediate Benefits of a Hybrid IT Model
Is your company using a hybrid model for any of your technology or business processes? I'd love to hear your thoughts about hybrid models in business, and how you might implement them. Leave a message in the comment section below!