On Saturday, May 19, as part of a partnership between Meridian's Community Outreach Committee and Habitat for Humanity of Northern Virginia, Meridian VP of Sales Chris Lucci will participate in a high-adrenaline rappel down the 15-story Hilton Global Headquarters building to actively support Habitat NOVA's mission. Help us send Chris OVER THE EDGE here!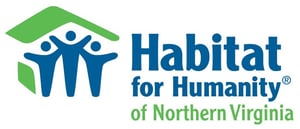 This is NOT your Typical Fundraiser! Habitat's 2018 Over the Edge event is one of the most highly anticipated and exciting fundraisers in Northern Virginia. This unique experience will only be matched by the participants' deep pride in supporting Habitat NOVA's mission — building lives and homes for local families.
With 80+ elite thrill-seekers – or "Edgers" – enrolled, the OVER THE EDGE event supports Habitat NOVA's program outreach including the 100 Families Served Campaign – a major milestone: 100 families served since the organization's inception in 1992.
Habitat for Humanity of Northern Virginia (Habitat NOVA) is a vanguard affordable homeownership advocate, known for ensuring strong and stable local communities and families. The affiliate has a stellar 28+ year reputation of fostering strength, stability, and self-reliance for local families wanting to invest in themselves and their communities through affordable homeownership.
Habitat NOVA is a highly-regarded organization that rallies our community together to help families build strength, stability, and self-reliance to create better lives for themselves and their children. They serve families living in Fairfax and Arlington counties, as well as the cities of Alexandria, Fairfax, and Falls Church, who earn 40-80% of the area median income and are precluded from home ownership on the open market.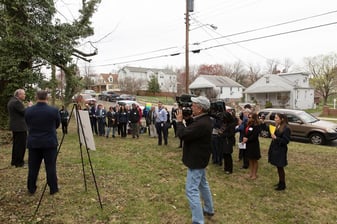 Habitat NOVA families invest in their future by helping construct and purchase their own homes, working alongside our dedicated corporate and individual volunteers. These families put in more than 400+ hours in "sweat equity" and financial education classes to ensure their success as new homeowners.
Related: Project French Fry: Meridian Employees Raise Funds for Local Animal Shelter
Habitat NOVA provides a "hand-up" to local families in need, helping them break generational cycles of poverty, lack of quality education, and inadequate access to healthcare. Because their mortgage payments are structured to be less than the cost of renting, Habitat NOVA families can build savings and invest in child enrichment, quality food, and healthcare. Homeownership provides a stable environment for children, reducing the dropout rate and increasing reading and math scores. Lower-income children who move to areas with better social and economic outcomes also have higher adult earnings.
The EDGERS are helping build lives as well as homes for local low- to moderate-income families wanting to invest in their children's future and in their community. Thanks to the generosity of supporters, Habitat NOVA keeps construction costs low, allowing them to provide families with 30-year mortgages - 1% down payment and 0% interest.
Related: Meridian Concludes Overwhelmingly Successful Clothing Drive for Local Northern VA Charity
Building homes in partnership with individuals, corporations, associations, faith-based organizations, and other community groups — totaling almost 200 volunteers per month — Habitat families have collectively saved more than $14 million in mortgage interest payments since inception.
Corporate support for Habitat NOVA's OVER THE EDGE event is provided in part by Meridian Imaging Solutions.
Additional corporate sponsors include PNC, Leidos, Tysons Partnership, Northern Virginia Association of Realtors, John Marshall Bank, and Hilton.
For more information about Habitat NOVA and the Over the Edge event, visit habitatnova.org, www.facebook.com/HabitatNorthernVirginia, follow @Habitatnova on Instagram, or tweet@HabitatNOVA. Don't forget to mention #HabitatNOVA #OverThe Edge to join the conversation!
Help us send Chris OVER THE EDGE here! For more information about Meridian's Community Outreach Committee and community service initiatives, click here or email the outreach team.