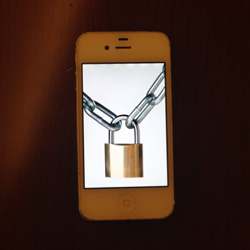 Sometimes I think my smartphone is smarter than me. It certainly has a better memory. What would I do without Google or Wikipedia? I have nearly unlimited information and capabilities instantly available in a package smaller than a deck of cards. Smartphones are now as powerful and functional as computers. Sometimes, I even make a telephone call with one. According to Microsoft, smartphones now outnumber personal computers and are the most commonly used device for accessing the Internet. Basically, the smartphone is now an extension of the desktop. This can be a boon to enterprise productivity, but it carries complex security challenges. Knowing that smartphones often contain sensitive company data, as well as personal information, cybercriminals are constantly devising new, malicious tactics to gain access to them.
What steps can you take to reduce the risk of falling prey to smartphone data theft? There are many options, but here are seven smartphone security steps recommended by the Federal Communications Commission (FCC).
1. PINs and Passwords
Set a personal identification number (PIN) or a password on the smartphone's home screen. This is a first line of defense, but polls show that many smartphone users either do not password protect their devices, or they keep them continuously logged in. One way to ensure PIN usage is to configure your phone to automatically lock if it is idle for five minutes. This may seem like an inconvenience, but this small step can save a lot of grief if your phone is stolen or lost.
2. Don't Modify Security Settings
Tampering with your smartphones factory and/or network security settings is a really bad idea. Using software to untether your phone from manufacturer restrictions, otherwise known as jailbreaking, may sound cool, but it is a good way to seriously undermine the phone's security system.
3. Know Your Apps
Use caution before downloading apps. Make sure the app is legit. Cyber hacks are getting very good at impersonating and counterfeiting legitimate apps. Check reviews and compare the app's website with the app store link. Be cautious about granting apps access to personal info, or allowing them to perform functions on your smartphone. Once installed, a malicious app can not only wreak havoc on your smartphone, but can also harm an entire network.
4. Backup Your Data
All that data stored on your phone—documents, contacts, photos, etc.—can be easily stored and secured on either your computer, a removable storage device, the Cloud, or all three. This will allow you to easily restore the information to your phone should it be lost, stolen, or accidentally erased.
5. Update and Patch
Keep your smartphone's software current by enabling automatic updates and patches from your service provider, your operating system developer, your device manufacturer, and your app providers. This will reduce the risk of exposure to constantly evolving cyber threats.
6. Be Wi-Fi Vigilant
Cybercriminals love public Wi-Fi networks. Use common sense and don't access sensitive personal or company information in coffee shops, airports, shops, etc. Limit use of public hotspots, and try to only use protected, secure Wi-Fi from known, trusted networks, especially when dealing with proprietary information.
7. Enable Remote Wiping
Install security apps or implement a mobile device management (MDM) application that allows network administrators to remotely locate and erase all data stored on your phone, even if the Global Positioning System (GPS) is turned off. These apps can also help you locate and recover your phone if it is lost or stolen.
If your phone is stolen, report it to the police and also to your service provider. All the major service providers, in coordination with the FCC, have established a stolen phone database.
This is by no means a complete outline for smartphone security, but simply implementing these seven steps goes a long way towards an intelligent smartphone security plan.