As technology evolves rapidly, businesses often struggle to remain current and competitive. Companies are under increasing pressure to drive business value, with fewer and fewer resources, and in the face of more complex challenges than ever before. So how exactly can small- to mid-sized organizations use their resources most efficiently to keep up with an ever-changing IT climate?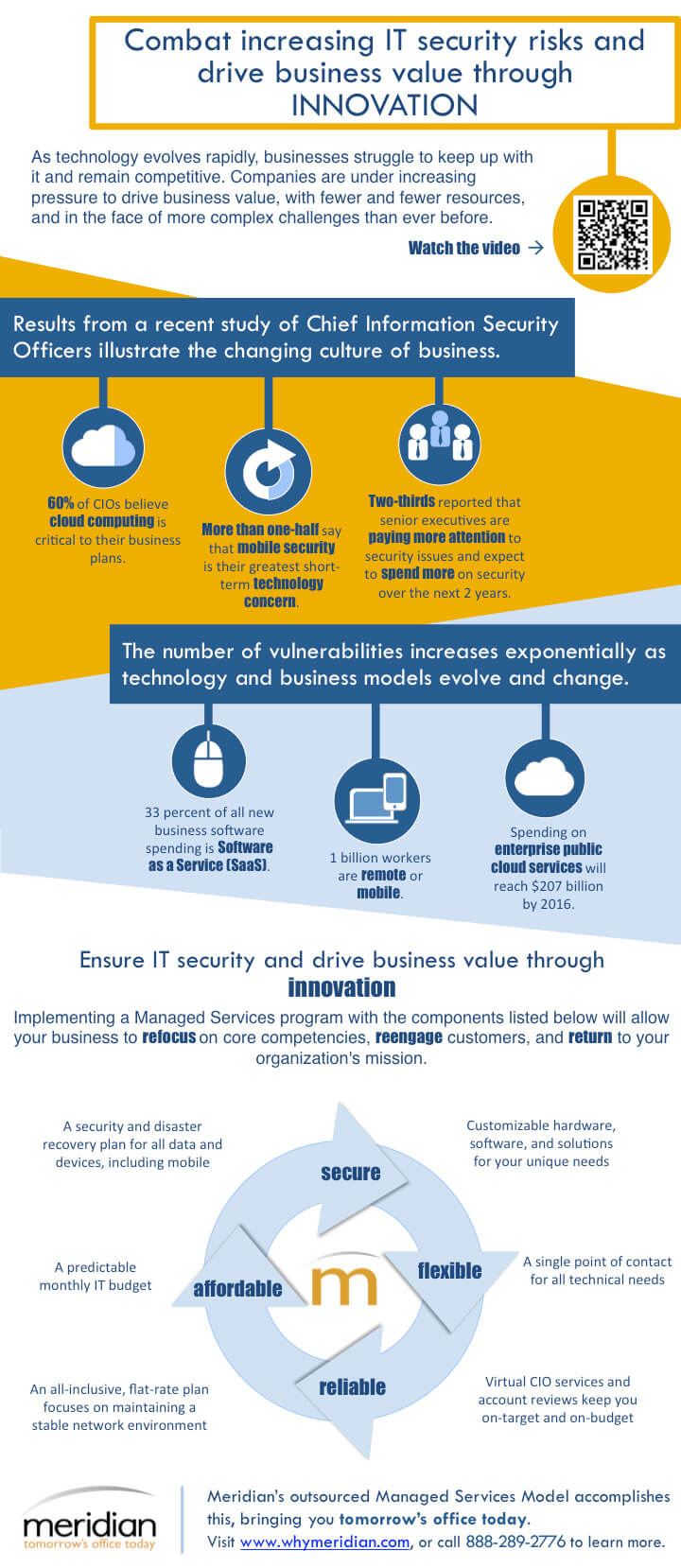 There's a simple solution—a partnership with a Managed Services Provider (MSP) can help you keep your technology up-to-date, combat increasing IT security risks, and drive business value through innovation. First of all, I want to make it clear that innovation is not the same thing as invention. Invention is the process of creating something that has never existed before, while innovation is the practice of using existing ideas in new ways, in order to improve existing processes or solve existing problems. A good MSP is not one who invents new business processes. On the contrary, a good MSP is one who creates efficiencies in existing business processes through innovation.
So why is this important?
Technology is changing rapidly, and the culture of business must evolve along with it. Results from a recent assessment of Chief Information Security Officers published by IBM illustrate these changes in the culture of business. The most important statistics that I took away from this report were:
Sixty percent of CIOs believe that cloud computing is critical to their business plans.
More than one-half of C Level executives say that mobile security is their greatest short-term technology concern.
Two-thirds of senior executives reported that they are paying more attention to security issues and expect to spend more on security over the next two years.
The challenges associated with securing IT and business intelligence are also dramatically changing. The number of vulnerabilities increases exponentially as technology and business models evolve and change. Businesses must respond to these challenges and find innovative solutions to secure their data against these new vulnerabilities.
One example of this is the widespread adoption of Software as a Service (SaaS), which has many benefits including security, flexibility, mobility, and efficiency. In fact, according to IBM, at least thirty three percent of all new business software spending is now SaaS.
Another challenge that businesses must face is mobility. Over one billion workers are now remote or mobile, and businesses must find ways to empower this new mobile workforce and enable them to be productive anytime, anywhere. This means that businesses must have both a Mobile Device Management strategy and a BYOD (Bring Your Own Device) policy in place to ensure that data can be securely accessed on the go. Another way that businesses are responding to the movement toward mobility is by adopting cloud computing. Spending on enterprise public cloud services will reach $207 billion by 2016. Cloud computing not only allows access to data and systems from any internet-enabled device, but cloud-based security solutions also offer more proactive detection and remediation of network vulnerabilities and threats.
Implementing a managed services program with the following qualities will allow your business adapt to today's quickly changing technology and refocus on core competencies, reengage your customers, and return to your organization's mission.
Secure
Your managed services program should include a security and disaster recovery plan for all data and devices, including mobile devices and employee-owned devices.
Affordable
Many traditional IT vendors operate their businesses under a break/fix model. This means, in order to make more money, they must bill more hours—therefore they have little incentive to proactively prevent problems, or fix problems quickly when they do occur. This also means that under a break/fix model, your IT bills could fluxuate dramatically from month to month, based on how many hours your vendor was able to bill that month.
An all-inclusive, flat-rate managed services program focuses both the client and the MSP on maintaining a stable network environment, and provides you with a predictable monthly IT budget. This proactive approach motivates the provider to get to the root of the problem and fix it completely, regardless of how much time it takes them at that moment. Under this system, the provider wants to avoid the need to continue coming back to fix a recurring problem. They will also want to provide you with recommendations to keep the network efficient, with increased uptime.
Flexible
Your provider should offer a fully customizable plan for you, including hardware, software, and solutions suited to your unique needs. When it comes to technology and business processes, no two organizations are identical—and they should not be treated as such. An MSP should conduct a thorough assessment of your IT environment and your business processes before creating your customized technology plan. They should present you with a detailed report showing their findings and their recommendations to fully and efficiently optimize your network, technology environment, and core business processes. Furthermore, this plan should be scalable to your changing needs and flexible enough to grow and change along with your business.
Reliable
Virtual CIO services and account reviews keep you on-target and on-budget, and give you an opportunity to hold your provider accountable for their services. Your provider should also be capable of managing all of your vendor relationships, so that they can be your single point of contact for all technical needs. This allows them to hold your other vendors accountable for any potential problems, and saves you the time of tracking down multiple vendors, should a problem occur.
Ready to get started now?
Request an assessment of your technology environment and business processes today.
JC McKee has worked for Meridian since 2007 and currently manages Meridian's internal and external communication and marketing initiatives. She can be reached at jcmckee@whymeridian.com.
Find JC on Google+ or tweet her @JulianaCmckee.