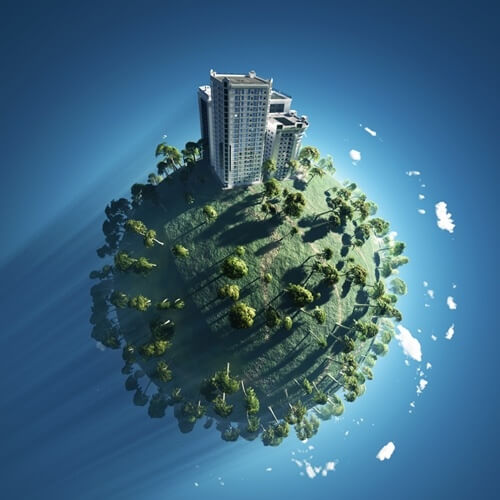 Even simple changes can have a significant impact.
Today's business world is becoming increasingly aware of our impact on the environment.
If you're interested in reducing your carbon footprint and making the planet a healthier, safer place, the good news is that there are plenty of ways to do that. By pursuing green business practices and making your office more sustainable and energy efficient, not only will you be improving the atmosphere, but you'll also be boosting the appeal of your brand.
Below are four easy ways you can enhance your office's efficiency:
1. Look for ways to consolidate office equipment
How many devices in your office do you currently use on a daily or regular basis? Office equipment that goes unused is a waste of both energy and space — which is important to consider in today's increasingly expensive commercial real estate . If you're looking to revamp your office and increase its efficiency, a good place to start would be identifying pieces of equipment you could eliminate or consolidate.
For example, rather than have an individual copier and fax machine, invest in one that does both. Another reason you should consider doing this is because newer models are often more energy efficient than legacy systems.
Related: The Top 5 Risks of Using Outdated Technology
"Idle office equipment wastes both energy and space."
Similar to how idle pieces of equipment consume unnecessary amounts of energy, keeping document and workflow processes in-house when they would be better handled through a third party is a pitfall you want to avoid.
By outsourcing print management and related processes to a managed services provider, you are reducing the amount of energy consumption your office consumes while completing these tasks. These providers also specialize in right-sizing your technology, in a way that can provide numerous environmental and cost-reduction benefits.
You may also be interested in: 3 steps to avoid analysis paralysis and right size your printer fleet
3. Switch to LED lighting
According to the Department of Energy, making the switch to LED lights over the next 20 years could result in $250 billion energy cost savings and cut lighting-related electricity consumption almost in half. Plus, considering that LED bulbs last longer than incandescent ones, there's really no reason not to! Here are 4 other easy ways to go green at work...because green is good for business!
4. Work with partners who are committed to sustainability
Ensuring the safety and ethical responsibility of your suppliers is just as important as making sure your own business processes are environmentally friendly. Ask your third-party service providers, whether it be for managed print services, managed IT services, or something else, about what green practices, if any, they use.
Furthermore, inquire about what eco-friendly offerings they can provide you with that will help significantly enhance the energy efficiency of your office. By working with organizations who value sustainability, you quickly become more environmentally responsible.
To learn more about the ways you can increase the energy efficiency of your office and improve your overall workflow, contact us at Meridian today to learn about ways we can help you go green!