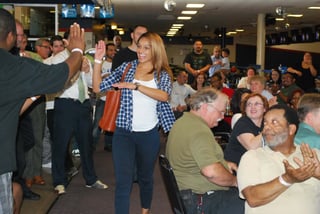 Okay — It's Time To Get Serious About Your Company Culture!
Culture is a common buzzword in today's modern office and, like most buzzwords, it gets a lot of usage, often without much thought. So, you may be left wondering, "What does company culture really mean, and why should I care?"
As defined by Wikipedia, organizational culture " encompasses values and behaviors that contribute to the unique social and psychological environment of an organization." To sum it up, company culture is simply the combination of your company's vision, values, norms, systems, language, and habits in action.
While you accepted your role within your small-to-midsized business (SMB), you may not have realized that doing so also meant accepting responsibility for defining and maintaining your company culture. In today's competitive business landscape, where disruption has become almost as common as remote workforces, it's vital to build and maintain a company culture which is suitable to you, your employees and your industry. Since your culture is essentially the living, breathing soul of your business, it must be consistent throughout the entire organization. Therefore, it is important that it is clearly defined.
RELATED: Mobility and Cloud Computing: a Natural Fit, but Enterprise Policy Needed
Read on to learn about these three steps for defining your company culture:
Evaluate Your Company's Culture
Attract Talent Which Reflects Your Culture
Plan For the Future
---
1. Evaluate Your Company's Culture
The first step you must take defining your company culture is just that. Take time to actually access your current culture. In order to expand on your culture, you must see what type of culture has already emerged.
Therefore, take a look around and ask yourself a few eye-opening questions. Are there any common behaviors? How do employees usually act? What type of conversations take place? Does this job seem to be important to your employees? Would your employees accept another job elsewhere, if they had the opportunity?
Whereas these questions may not tell you exactly what your company culture is, it can definitely help you uncover healthy (or unhealthy) behaviors. Knowing how your employees are reacting to the emerged culture is vital to the organization's overall success. There are also numerous third-party service providers you can enlist to survey your workforce and get an objective view of your existing culture, along with any potential areas for improvement.
2. Attract Talent Which Reflects Your Culture
Determining where a potential employee fits into your culture is crucial. In the same way, you must attract talent that are both skilled and knowledgeable, in addition to being good cultural fits. It is important to discuss morals, values, work style, and leadership preferences throughout the interview process. You must ask in-depth questions regarding their work philosophy and their ideal work environment.
Once you've narrowed the selection down to the best fit, make sure that the company continues to display the company values that were demonstrated in the interview. Encourage your existing team to welcome new employees, at all levels.
RELATED: Company Culture: The Family I Never Knew I Had
3. Plan For the Future
It's common for one organization to have a few, or even many, different departments with roles and elements of sub-cultures specific to their teams or work groups. That said, it's important to set individual standards which align with each department. Although individual future employees don't necessarily dictate your future company culture, they play an integral role in shaping the company's future.
When mapping out your company's culture for the future, be sure to create an environment of purpose. You want employees to feel like they matter. It is quite simple, actually. Each employee should be treated as if they are important factors in the success of your organization's daily operations. In addition, as a leader you must equip your employees with the necessary resources to fulfill their purpose. Make sure distractions within your organizational structure are minimized and your employees feel empowered.
RELATED: Finding Happiness in ESOP
In order to feel empowered, employees must trust you. Trust is a critical factor in company culture and can have several different meanings. Trust may involve anything from feeling comfortable with leaving your personal belongings unattended at your desk during meetings, to being able to trust your manager enough to discuss issues without backlash. Trust should be implemented as a company value from day one.
When trust lives within an organization, employees are more adapt to take direction from leadership and strive for continual improvement. Creating a culture of learning not only benefits the employee, but the organization as a whole. As a result, an overall sense of purpose will manifest.
Related: Business Continuity Planning: Don't settle for satisficing
---
As a leader, you have accepted the great responsibility of shaping your company's vision, values, norms, systems, language, and habits. It is important to define your culture and make sure it aligns with the path you would like to see the organization go in the future. As the culture lives throughout the entire company, it's essential that it fits management, current employees, and the future employees you plan to recruit and hire.